Transformers: War for Cybertron Optimus Prime Comparison
Have you checked out the trailer for Transformers: War for Cybertron? Pretty cool eh? A quick look through Game Informer's Optimus Prime character feature indicates that this game will somewhat follow the storyline of now defunct Dreamwave Comics' Transformers: The War Within comic books. And yes,  Trypticon, who appears to be a boss in this upcoming game, does appear in the comic book  as well.
There's one thing though to nitpick about, Optimus Prime isn't an exact copy of his The War Within incarnation when in robot mode, and instead appears to be an amalgamation of sorts, which can be explained in the diagram below. The vehicle mode on the other hand, looks rather spot on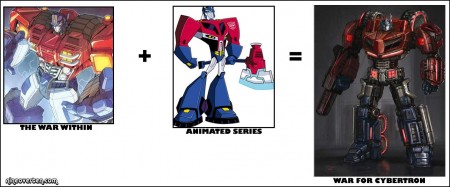 Touted to be 2010's Arkham Asylum (AA did what previous Batman games couldn't do…by not sucking), let's hope that War For Cybertron doesn't suck.
Powered by

Sidelines
Previous Post An Open Letter to Golden Screen Cinemas (GSC)
Next Post The One About Blue Talking Lemurs and The Book of Eli