How Not To Promote a Sucky iPhone App
One thing I noticed about the multitude of iPhone apps available on the App Store is that developers can easily fall into the trap of trying to reinvent the wheel or building better mousetraps.
An example would be Twitsnaps, a Twitter client whose value proposition is to allow you to tweet your photographs. Hmm, now haven't I seen this kind of functionality tied to other Twitter clients and practically no one would tout this as a primary feature.
Photo uploading as a main feature must have sounded really weird and therefore the developer decided to add a "complete Twitter client experience" to the app. In version 1.1 of Twitsnaps, you can do stuff that other Twitter clients have been able to do all the while: tweet stuff.
But with an anal looking interface for tweets, I'm pretty sure no one would want to use it (just take a look at the shot below), guys, have you even heard of Echofon?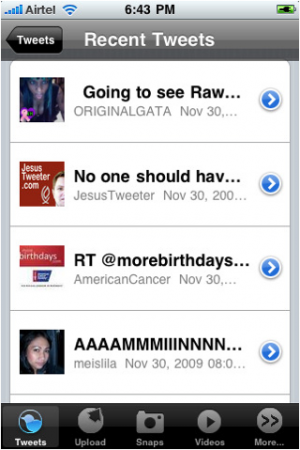 So, in the latest desperate move to promote usage, the guys behind Twitsnaps are offering 20 bucks to the first 100 users who download Twitsnaps and use it to upload 5 pictures. Urgh, I don't think you can go any lower than that. Lol, if you can only give out money to prevent people from giving 1-star ratings to a lousy app (free or otherwise).
Powered by

Sidelines
Previous Post Makibishi Comic (iPhone) Review: Ninja Weirdness
Next Post Arroic (iPhone/iPod Touch) Review: Trick Shots Galore