Two Real Life Grand Theft Auto-Style Juvenile Perpetrators
Gamespy put up a news story on how a 14 year old kid held up two kids at gun point with a BB gun, stole their bikes, was unsuccessfully tasered by cops but ultimately got tackled and arrested. To top it of, the kid actually considered shooting a deputy sheriff in the eye and commented that the whole experience was like playing a "live" version of GTA San Andreas (click here to read about it)
Okay…if you think that's crazy, I've got story about another guy that is destined for the record books.  Colton Harris-Moore, 18, over the course of his juvenile delinquent career has stolen cars, hotwired and flew planes for joyrides and breaking into and stealing from vacation homes in the San Juan Islands.
He hasn't been caught yet, but apparently this kleptomaniac has been doing this since he was 10 years old, with eight reports of theft and vandalism among other things by the time he was 13/14. He graduated to jacking airplanes like a Cessna he crashed and makes the young Captain Kirk in the new Star Trek movie (he's somewhat a juvenile delinquent too) look like a pansy.
The self portrait below was shot after he stole a Mercedes Benz: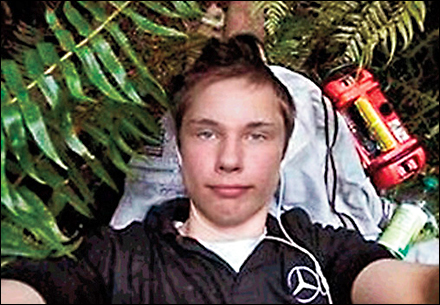 You can read about Colton in a pretty long article about him over at Outside Online (click here). He is now considered armed and dangerous after stealing a rifle from a police car.
Powered by

Sidelines
Previous Post GrooveMaker Reggaeton (iPhone) Released
Next Post Let's Golf! (iPhone) First Impressions