GrooveMaker Reggaeton (iPhone) Released
Reggaeton, according to Wikipedia, is a form of urban music that became popular with Latin American youth in the early 1990s. After its mainstream exposure in 2004, it spread to North American, European and Asian audiences. It is a form of Jamaican reggae that has been adapted to the Spanish language and culture of the Central America country known as Panama.
IK Multimedia, the makers of GrooveMaker and its various incarnations for the iPhone, has come up GrooveMaker Reggaeton, a music making application featuring the sounds of Latin America and the Caribbean.
Check out the press release below on how you can pour some 'gasolina" to your masterpieces in GrooveMaker Reggaeton:
GrooveMaker® Reggaeton for the iPhone/iPod Touch now available
Reggaeton music on the go
December 2009, Modena, Italy – IK Multimedia is proud to announce the release of GrooveMaker Reggaeton, the latest application in the GrooveMaker range of remixing apps for the iPhone/iPod touch. This new style-based app allows anyone to create and share non-stop reggaeton tracks for remixing, multimedia and movie soundtrack compositions on the go, in real-time, just like a professional DJ or music producer.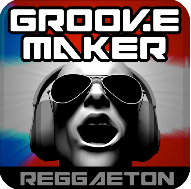 Put some "gasolina" into your grooves and produce some of the coolest reggaeton tracks in the "barrio" with GrooveMaker. GrooveMaker Reggaeton provides a musical journey into the urban Latino landscape, all the way from Puerto Rico to Miami with this high-energy title.
This version is packed with unstoppable party-like beats, moving basses, percussion, rhythmic synths and effects, all spiced up with instrumental lines and riffs from the Latin American and Caribbean cultures. The new GrooveMaker Reggaeton includes 3 songs, plus 1 FREE song by registering, and a total of 252 loops in 95-96-95-92 BPM ranges for 161 MB of samples.
GrooveMaker has quickly become one of the top downloaded remixing applications for the iPhone/iPod Touch, with nearly 500,000 downloads, allowing any user to create professional, full-length tracks in minutes with its unique combination of advanced remixing software and high-quality included loops' sound content. With 11 available applications in the GrooveMaker range, there are now over 3,000 high-quality, fresh loops available for you to remix everywhere on your iPhone/iPod touch.
GrooveMaker allows for instantaneous control over 8 stereo loop tracks, making it possible to remix the included massive loop library in virtually limitless ways. Its unique and patented randomization feature allows musicians to generate a sheer number of remixes on the fly, with one touch, and produce millions of possible groove combinations.
Loops made in GrooveMaker can be manipulated in real-time (pan, volume, mute, solo, group and tempo) and grooves can be arranged easily by dragging and dropping to create full-length tracks. These tracks can then be saved, previewed and recalled on the iPhone/iPod touch devices or exported as hi-quality .WAV files to any computer using a Wi-Fi network.
Pricing and availability:
The new GrooveMaker Reggaeton is already available in the Apple iTunes App Store for only $9.99/€7.99.
This brings the number of currently available GrooveMaker applications to 11 in addition to GrooveMaker Club, House, Hip-Hop, Techno, Trance, Electro, D'n'B, Reggae and Rock versions. A fully functional GrooveMaker FREE version is also already available, so everybody can download it and start making music right away!
For more information, video and audio demos, please visit:
Powered by

Sidelines
Previous Post Protect Your iPhone From Rick Astley….
Next Post Two Real Life Grand Theft Auto-Style Juvenile Perpetrators