Royal Malaysian Armed Forces + Video Games = Recruitment Win?
I don't normally buy American when it comes to video game magazine, often opting instead for Old World charm like EDGE and Retro Gamer. Maybe it's due to the perception that US mags are rags with too many ads.
Anyways, I saw a copy of the September issue of PlayStation The Official Magazine at a back issue store selling for just RM 10 and decided to give it a shot. Ironically, it was the ads that turned out to be even more interesting.
The Royal Malaysian Armed Forces can pick up a tip or two from the US military with regards to recruitment, by creating ads appealing to their target audience's favourite past time, video games. Take a look at a bunch of ads created for the National Guard: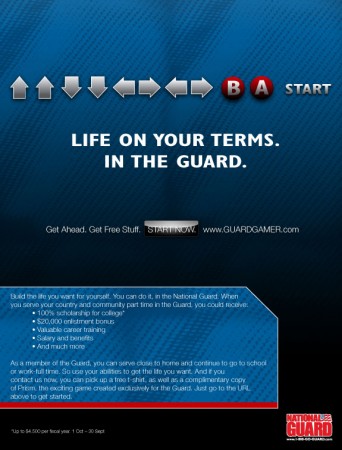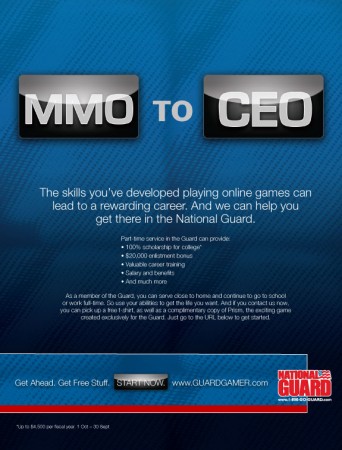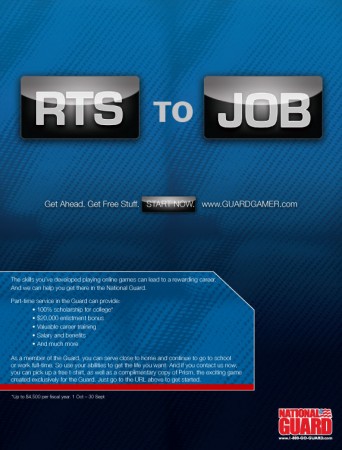 Pretty cool eh? But I wonder how would our precocious limp-wristed Counterstrike fanboys, who face nothing but the glare of LCD screens, would fare in real world combat training. Just to get an idea on how crazy it gets: my dad used to run 10 kilometers in under an hour in full combat gear.
*Picture credits: rocketiron.com
Powered by

Sidelines
Previous Post Bargain Sony PS2 Titles Under USD 20 That You Should Get
Next Post Of Effiminate, Emo Men and Macho Girls in Final Fantasy Games