Transformers Mini Model Kits
Normally one would associate model kits with mecha from Gundam or even Macross. Who would have thought there would be model kits (read: assembly required) for the robots in Transfomers?
Kabaya has just released a set of mini plastic model kits featuring two different Optimus Prime designs and another Autobot that I do not recognise. These guys are rather small since they are candy toys (plastic toys that come with some form of candy, in this case, chewing gum) and you'll need to put on the included stickers to complete the look.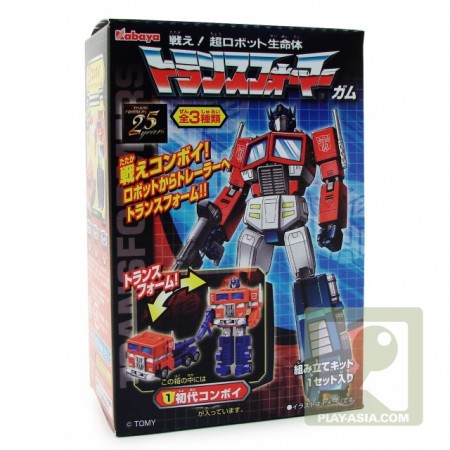 Check out the product description from Play-Asia:
Build your own transformers from the plastic kit. Cut the box open to reveal building instructions and the piece of gum that you can sink your teeth into whenever you encounter a tricky part. Remember to stick the stickers onto the right parts to complete the look.
You can switch the figure from mecha to truck and vice versa, so depending on whether you want battle prowess or transportation displayed in your glass case, you can change everything depending on your mood.
The Transformers Candy Toy is selling for USD 4.49 each and you won't know what you are getting until you open the box. Interested? Click here for details.
Powered by

Sidelines
Previous Post Tales of A Capital Wasteland Wanderer: Regarding Super Mutant Overlords
Next Post iPhone Firmware 3.12? We Has It!