smackBOTS (iPhone) Review
It's strange that while I indicated my dislike for KatchUp in my previous review post, I actually like LeftRight Studios' earlier game, smackBOTS, which was made free to download for 24 hours several days ago on the AppVent Calendar 09 site.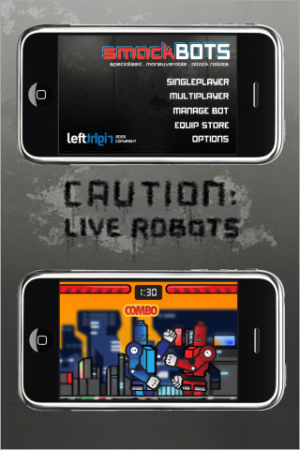 A 2D brawler, it kinda reminded me of thumb-wrestling,  as the continues taps of your thumbs on the screen will determine how much of a smackdown you'll give to the opposing robot. Each match consists of 2 rounds and winning nets you money for your defense budget, allowing you to buy combo moves, upgrades and of course, new robots.
The graphics are done in a cool line-art style that don't look out place from a web-based Flash game and the controls will have you tapping like crazy on screen. There's a multiplayer option but I've not gone about testing it yet.
Nevertheless, I highly recommend smackBOTS, and guess what? It's still free of charge! Check it out over here.
Powered by

Sidelines
Previous Post KatchUp (iPhone) Review
Next Post Trophy Hunting in Fallout 3