KatchUp (iPhone) Review
Man, this is tough. I find myself thinking that everytime I attempt to play KatchUp on the iPhone. Essentially, LeftRight Studios' latest game places you on the factory floor of a ketchup factory.
First up, you'll be required to operate a conveyor belt delivering tomatoes to a vat, and you'll need to flick away the occasional hammer, car tyre, fortune cookie, bananas that come along, because they'll just contaminate your ketchup.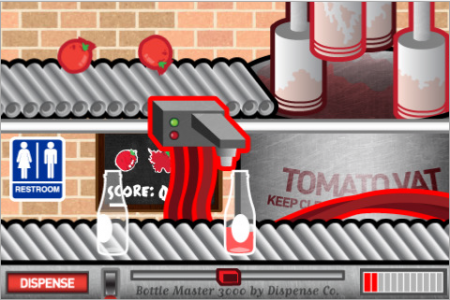 Once the vat is filled, you'll need to stop the conveyor belt and activate a second belt, this time bringing empty bottles to be filled with ketchup. You'll having to move the dispenser up and down to fill up constantly moving bottles and make sure that they are filled to the max. All this and you have to keep an eye on the contents of the vat.
If the vat is empty, you'll need to stop the dispensing line and start up the first conveyor belt to deliver tomatoes to the vat.
The game feels too much like work and there's nothing particularly fun about the gameplay mechanics and if you fail you get a you fired sign no matter how well you did. In short, the gameplay sucks and the rewards are few to come by.
For me these are pretty much fatal flaws and no matter how pretty a game looks like or how the physics engine handles all the flicking, it just…fails.
I would surely recommend more satisfying endeavours but hey, if you still want to check out Katchup, it's on the iTunes App Store for 99 cents. Click here for details.
Powered by

Sidelines
Previous Post Inside Gaming (5th December): Droid Porn, Tony Hawk, Diablo 3 and PoP
Next Post smackBOTS (iPhone) Review