Mean Girls Arrive on the iPhone for the Holidays
Paramount Digital Entertainment has been pretty busy this year, bringing the likes of Star Trek, Top Gun, Pet Sematary and Clueless as iPhone games. The convertion of movie-based IP to video games continues with PDE's latest game, Mean Girls: High School Showdown.
The game, inspired by the movie Mean Girls starring Lindsay Lohan, is out now on the App Store and is selling for a introductory price of just 99 cents. For more details, check out the press release below from PDE:
DO YOU HAVE WHAT IT TAKES TO RULE THE SCHOOL? SEE FOR YOURSELF IN MEAN GIRLS: HIGH SCHOOL SHOWDOWN FROM PARAMOUNT DIGITAL ENTERTAINMENT – NOW AVAILABLE ON THE APPLE APP STORE
Strategic Match 3 Battles Decide Who Will Reign Supreme at North Shore High
Suffer the rejection of the cliques of North Shore High or completely rewrite the rules of the social ladder – it's all up to you! Mean Girls: High School Showdown from Paramount Digital Entertainment for the iPhone and iPod touch, now available for the introductory price of only $0.99 on the iTunes App Store! Inspired by Paramount Pictures' film, in Mean Girls: High School Showdown, players take on the role of a new student who must decide if naughty or nice will run North Shore High by fighting opposing high school cliques in strategic Match 3 battles.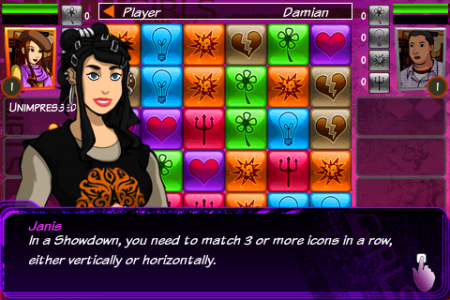 In Mean Girls: High School Showdown, players select one of four different character types – slacker, nerd, rebel or art freak – and go head-to-head in Match 3 battles against characters featured in the "Mean Girls" film. Players can achieve perfect social harmony or completely control the cliques of North Shore High – their strategy choices will determine how far players rise on the social scene.
Players can focus on matching heartbreak icons to be a bully, or match special heart icons to make a new BFF. Each round ends when the Stamina meter is depleted or the Loyalty meter is filled up. Players can determine how vicious or virtuous they want to be by customizing battle stats and unlocking special skills.
Are you a mean girl, or just pretending to be one?  Find out with Paramount Digital Entertainment's Mean Girls: High School Showdown!
Mean Girls: High School Showdown for iPhone and iPod touch is available now from Apple's App Store or at https://itunes.apple.com/us/app/mean-girls/id337961657?mt=8 for an introductory launch price of $0.99 and will be regularly priced at $1.99.
Powered by

Sidelines
Previous Post Ultimate Guide to Sony PSP Go Accessories
Next Post The Cowardly Gamer: The Thing About Real-Time Strategy Games (Part 1)