New Disney, Dr Seuss Games Coming For The iPhone This December
Two updates for the price of one today. First up, just in time for the holidays, ABC brings you Disney Prep & Landing, a new television special airing Tuesday, December 1st at 8:30/7:30c. Timed with the animated special comes the Prep & Landing iPhone App Game.
Train to become a member of the Prep & Landing team when you play Lanny the elf in three exciting adventures that take you from rooftop to rooftop on the most important night of the year- Christmas Eve!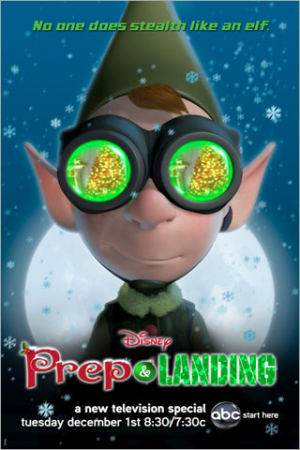 Here's a rundown of what you'll need to do to help Lanny the Christmas elf successfully prepare homes for Santa's arrival on Christmas Eve:
Deployment
Parachuting safely from Santa's sleigh is no easy task! Maneuver through the night sky and avoid hitting toy airplanes, balloons and birds. Catch the candy canes and presents to earn rewards and get one step closer to graduating from Kringle Academy and earning a spot on the Prep & Landing team!
Sparkle Ball Practice
Creatures are stirring! Children and puppy dogs are awake in anticipation of Santa's arrival, but Christmas elves like Lanny must never be noticed. Toss a sparkle ball to put the eager children and puppies to sleep and be careful not to hit Wayne!
Ski Jump
Santa has a lot of homes to visit on Christmas Eve! Jump from rooftop to rooftop to catch special ornaments that increase your time to prepare homes for the big guy, but be sure to watch out for chimneys and snow pits that will cause you to fall and lose time.
Extra features full of Holiday fun!
Have you been naughty or nice? Find out by scanning yourself, your family, and your friends on the Naughty or Nice Meter.
See where all of the world's naughty and nice people are by checking out the World Map.
Where could Santa be? Check out his location at any time using the Santa Compass.
Graduate Kringle Academy with a high score and earn Elf Medals!
On the other hand, Oceanhouse Media is announcing this week the first series of officially licensed iPhone Apps based on the beloved Dr. Seuss classic, How the Grinch Stole Christmas! Grinchmas, a casual, light-hearted snowball and present-throwing game will be available in the App Store for $1.99, in addition to Dr. Seuss Camera – The Grinch Edition, a unique and whimsical greeting card maker, priced at $2.99.
Available for both the iPhone and iPod Touch in the Kids Games and Family Games categories, the Grinchmas app is a fun, casual game in which players assume the role of the Grinch perched atop Mount Crumpit.
By swiping across the multi-touch screen, players throw either snowballs or presents down to Who-ville, depending on whether they feel "mean" or "merry." Grinchmas features fun, colorful graphics that mirror the timeless style of How The Grinch Stole Christmas! Accuracy and quantity of successful throws determine the player's score.
The Dr. Seuss Camera – The Grinch Edition app for the iPhone is now available in the Photography category and allows users to create festive "Grinchmas Cards" using the iPhone's built-in camera.
Players can pose with characters or choose to become the Grinch, his faithful four-legged friend Max, or even the adorable little Cindy-Lou Who. Cards can be personalized with comical and colorful stamps, borders and classic Seussian text. Grinchmas Cards can be e-mailed to friends and family or saved to the Photo Library.
Powered by

Sidelines
Previous Post iPDJ Mobile Groove Event Nov 20th @ Voodoo Lounge Pics and Videos
Next Post Battlefield: Bad Company 2 Multiplayer Beta (PS3) Impressions