Need for Speed SHIFT: Team Racing Pack Details
The game that really made an impression on me when it came to DLCs was Burnout Paradise. The majority of the DLC packs were free and pretty top notch as well, especially the Bike Pack. It looks like another EA creation is going down the free DLC route, and it's no surprise that it is another critically-acclaimed racer, Need for Speed: SHIFT.
The content is broken down to 2 sections: the first is a new online Team Racing mode which pits Team Red vs Team Blue in an intense battle for track domination. With the new pack you can join your friends and fight for the right to be called king of the track. All cars are stock; no vinyls, no works package, no modifications of any kind just a wicked combination of skill teamwork.
Create a team, invite your friends and race using any means necessary to come out on top. Don't kid yourself, your opponents will be trying every move in the book to get ahead – it's up to you to fight them off and take the podium.
The second element of the pack is a range of new cars. When we were looking at which cars to add we went through all the emails, comments and forums to see which were the most requested cars and worked hard to get them into the new pack.
By far the most popular was the Toyota Supra so we're very happy to reveal that the '98 Supra will be returning to Need for Speed very soon.
After the requests for the Supra is was clear people really wanted to see more American Muscle back in the game so we brought back four legendary muscle cars from a time when cubic inches were king. Once downloaded you'll be able to get behind the wheels of some of the finest cars Detroit has ever produced.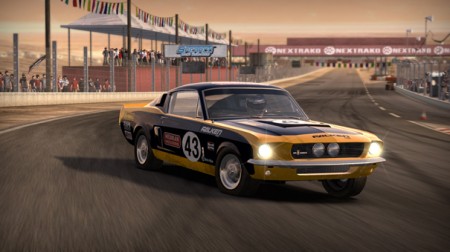 The Team Racing Pack is available December 1 on Xbox 360 and PC and December 3 on PlayStation 3 in Europe. North American gamers will having to wait until December 10th. It is a FREE download.
Powered by

Sidelines
Previous Post Christmas Gift Guide – Handheld Gamer Edition
Next Post iPDJ Mobile Groove Event Nov 20th @ Voodoo Lounge Pics and Videos