iPDJ Mobile Groove Event Nov 20th @ Voodoo Lounge Pics and Videos
Remember the announcement made not long ago on Nine Over Ten 9/10 regarding IK Multimedia's iPDJ Mobile Groove Event at the Voodoo Lounge, Fort Lauderdale, USA? Well, the event was a great success and the DJs put up some groovy stuff with their GrooveMaker software-equipped iPhones and iPod Touch.
Even though yours truly wasn't there, friends at IK Multimedia have provided Nine Over Ten 9/10 with pics and videos from the event, as well as quotes from the DJs involved.
On Friday Nov 20th, 2009, music technology history was made when DJs Chris Domingo, Scratch-D and Speechless rocked the stage @ Voodoo Lounge in Fort Lauderdale, FL USA for the first ever LIVE DJ Battle using GrooveMaker apps on their iPod Touches and iPhones. Concert-goers got a chance to hear House, Hip-Hop and Breaks music from GrooveMaker, with DJs tag teaming and performing grooves LIVE and on the fly.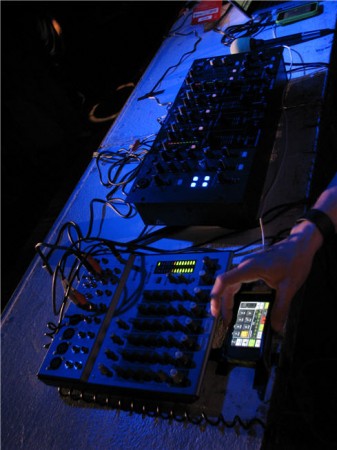 IK: What was your reaction to GrooveMaker the very first time you used it?
"When I first opened the GrooveMaker apps for my iPhone, all I could really say was 'Wow!'. I had so much fun making music with GrooveMaker, and I knew it was going to be a blast on stage doing everything/making beats on the fly. It was easy to use my iPhone as an instrument with GrooveMaker, and I had a lot of fun."
DJ Scratch-D of Dynamix II, A.K.A. David Noller
"Instantly I was making beats on it. The loops are very high quality, there are a lot of other things that this program does that no other program does…which is kind of revolutionary, considering that it's for the iPhone. I like the fact that I can mix down the track that I made and export it to my wifi connection, fast!"
DJ Speechless, A.K.A. Rob Mull
IK: How did you feel about performing LIVE on stage with GrooveMaker for the IPDJ Battle?
"You just witnessed it! Everything I did tonight was completely live, and honestly it was the best way to go; mutes solos pans volumes, dropping in loops, anything you can imagine you can do it live, instantly!  Plus, the coolest thing, if you are just hanging out, you can make a cool groove while you are sitting in the park, and then export that groove and download it later and use it."
"I have played with other DJ/ sequencing software and none of the other stuff comes close. The metering is pretty accurate, so accurate so that you have no clipping."
"I have to agree with Speechless that GrooveMaker is totally revolutionary; it's perfect to use on the fly, it's awesome, very easy to use live. And it was the first time I ever used it live…and it rocked! It was great, I love it."
DJ Chris Domingo
Click here to watch the GrooveMaker IPDJ Event Video on YouTube. Click here to see more pictures from the event on GrooveMaker Facebook Fan page.
Learn more about how to DJ Live and make music with GrooveMaker  for iPhone and iPod Touch (click here).
Powered by

Sidelines
Previous Post Need for Speed SHIFT: Team Racing Pack Details
Next Post New Disney, Dr Seuss Games Coming For The iPhone This December