teh internets (shmup) Coming to an iPhone Near You
I'm pretty stoked at Insurgent Games' upcoming shmup for the iPhone, titled "teh internets". Kinda reminds me of those weird shmups from Japan. Check out the following press release for details:
Brace Yourself: Insurgent Games Announces teh internets as Internet Memes Prepare an iPhone LOLpocalypse
November 18, 2009 -San Francisco-based game studio Insurgent Games announced today teh internets, an upcoming iPhone and iPod Touch action/arcade game set to storm the App Store this holiday season. In this hilarious and witty (cyber)space-shooter players fly through the web in an ASCII roflcopter dodging malicious memes and evil trolls, and collecting adorable lolcats and lollerskaters.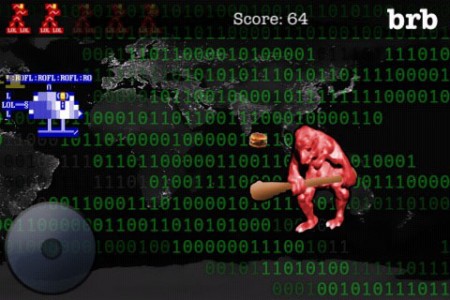 "While I think everyone can enjoy this game, digital natives who live every day with text messages, forums, YouTube, and social media sites will get the jokes." says Micah Lee, lead developer and founder of Insurgent Games. "And there's a lot of jokes!"
teh internets utilizes OpenFeint and contains a whopping 23 achievements ranging from "n00bs first lolcat" to "i can has cheezburger" to "imma let you finish!" Players can also compete against one another on nine different global leaderboards such as most lolcats collected, highest score, and even most time wasted playing the game.
See the trailer here: https://www.youtube.com/watch?v=M8XTe6S6J9o
teh internets has been submitted to the App Store and will be available for sale soon.
Powered by

Sidelines
Previous Post Food Meets Sudoku in Foodoku, Out Now for iPhone/iPod Touch