GrooveMaker Presents iPDJ Mobile Groove Event @ Voodoo Lounge Fort Lauderdale
This is not something you get to see everyday, a DJ (disc jockey) battle whereby the turntables are replaced with iPhones/iPod Touch featuring apps from IK Multimedia, namely GrooveMaker and FourTrack!
And you can be part of this historical event by making your way down to Fort Lauderdale on the 20th of November to watch DJs Chris Domingo, Scratch-D and DJ Speechless perform live on their iPhones/iPod Touch. Check out the press release below for more details:
IK Multimedia Presents "iPDJ" Mobile Groove Event @ Voodoo Lounge, Fort Lauderdale
First-ever live Performance DJ Battle with iPhone/iTouch apps for music on November 20th, 2009
November 2009, Modena, Italy – IK Multimedia is proud to present the first ever  "iPDJ" Mobile Groove Event at Voodoo Lounge Nightclub in Fort Lauderdale Fl, USA on November 20th, 2009. Watch history being made as DJs battle and record music live on their iPhones/iPods with GrooveMaker and FourTrack apps! Featuring DJ Chris Domingo, DJ Scratch-D from Dynamix II and DJ Speechless.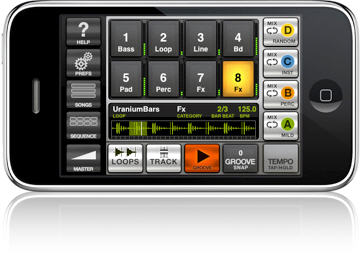 The iPDJ Mobile Groove Event is sponsored by IK Multimedia GrooveMaker, Sonoma Wire Works and Voodoo Lounge Nightclub.
Attendees of "iPDJ" @ Voodoo Lounge will experience the first night ever of House, Breaks and Drum-N-Bass infused with the latest technology in mobile music production in a live performance! First, they will watch their favorite DJ's fluidly groove a live set battling on their iPhones/iPod Touches with GrooveMaker apps for House, Electro, DnB and more, and then watch it all recorded live with FourTrack!
Breakdancers will grace the floor to the iPDJ groove set. After the iPDJ battle, concert-goers will jam out on the dancefloor to 3 full-featured hour-long DJ sets from Chris Domingo, Scratch-D of Dynamix II, and a special live breaks PA performance from DJ Speechless. There will be a drawing to win cool iPhone/iPod gadgets, soft-wear and more at the show!
Chris Domingo, Scratch-D and DJ Speechless will be performing live on their iPhones/iPod Touches using one or more of the following apps: GrooveMaker FREE, GrooveMaker House, GrooveMaker Techno, GrooveMaker Trance, GrooveMaker Club, GrooveMaker Hip-Hop, GrooveMaker Electro, GrooveMaker D'n'B and FourTrack.
Voodoo Lounge
111 SW 2nd Ave
Fort Lauderdale, FL 33301-1824
(954) 522-0733
https://www.voodooloungeflorida.com/home.php
Featuring the Artists:
Chris Domingo (www.chrisdomingo.com):
Two-time GRAMMY nominee. Founder of db Records, Breaks Collective Records, Loveclub, Domingo Brothers, and Chakra Blue. Chris is considered a founder of electronica music and the rave movement as one of the original old school DJ's from Orlando. Playing landmark clubs like The Abyss, Firestone, Infinity, Outer Limits, Fl. Theater and UV… Spinning as well as producing records in Orlando for over a decade.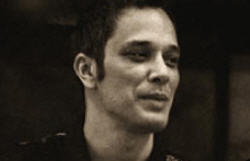 To date, Chris has done original/re-mixes for: Platipus , Topaz, Global Trance Network, Arctic Records, Substance Records, TUA Records, Fragrant Music, Loaded U.K. , React Singapore , Sperm U.K. , Mint Records, Limbo , Kickin', Hi-Rise, Sony, Arista, Warner Brothers, Maverick, Yoshitoshi, Future, Paragon, EBM , Breaks Collective, and Future Shock. Enjoy a special performance of Progressive and Tech House from Chris on Nov 20th at Voodoo Lounge!
Dave Noller – Scratch-D of Dynamix II (www.dynamixii.com):
Miami's Legendary David Noller leader of Dynamix II, is among a very few of the first wave of American electro and bass music artists to have successfully translated their old-school credentials into new-school relevance.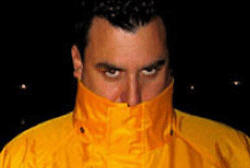 The producers behind classic roof-raisers "Bass Generator", "Feel the Bass", "Ignition," and the Gold Release selling over 600,000 units to date "Just Give the DJ a Break," carved out a signature niche in early electro with a kitchen-sink-style megamix approach, amplifying electro's energy level, deepening the low-end, and playing up its robotic themes with ample vocoded vocals. Enjoy his Incredible DJ set on Nov 20th, 2009 at Voodoo Lounge.
DJ Speechless (www.myspace.com/djspeechless):
DJ Speechless has flipped the switch on electro breaks by infusing a unique style of electric guitar with a live show that showcases monstrous breakbeats, haunting electronic melodies, and mind bending electro-tools like the DJ-warped "megaphone-guitar".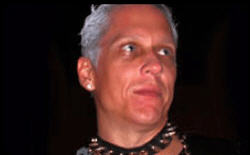 A show not to be missed if you can catch one. This native of South Florida tore the stage apart at Bang Music Festival and has brought his show to many parts of the US and Costa Rica. Enjoy his live performance on stage at Voodoo Lounge on Nov 20th, 2009! He will be performing his hit 'Spaceguitar' along with many others.
For more information on this event, please visit: https://www.GrooveMaker.com/ipdj/
For more information on making music with GrooveMaker and FourTrack apps for iPhone/iTouch, please visit:
Powered by

Sidelines
Previous Post Listen to NFS: SHIFT & NITRO's Soundtrack for Free
Next Post Gamer: Movie Review