MH3, Mario, Jump All-Stars, K-On Collectibles You'll Find No Where Else
Check out the following collectibles, featuring the likes of Monster Hunter, Mario, characters from Jump All Stars and cars from Amamiya and Ridox featuring the girls from the anime K-On!
First up is the Lagiacrus Fossil, an official Monster Hunter Statue featuring Lagiacrus the legendary sea king dragon. You can actually see him on the cover of Monster Hunter 3 (in it's full-fleshed form). This fossil statue is 12 centimeters long and looks pretty intricate. Price? USD 22.90. Click here if you are interested.
Next you have the Super Mario Galaxy Figure Vol 1. Key Chains. Featuring the a plethora of characters from the game, there are a total of 9 different kinds of keychains to collect. The best part about this collection from Banpresto? They are selling at a discount! One will set you back just USD 3.49. Click here for details.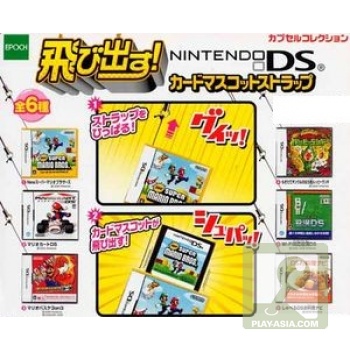 The next collectible bunch of items would be another set of Mario Key Chains, but this time, they are from Epoch. The DS Super Mario Bros. Phone Strap Gashapon feature 6 different designs at just USD 1.49 each for these scaled down DS case replicas. Click here for purchase information.
The characters from Jump All-Stars! take the keychain route as well with Bandai's Jump All Stars ! Mascot With Jump Key Chain Candy Toy collection. Going at a price of USD 3.90 each, there are 10 different characters to collect, among them are Rurouni Kenshin, Luffy (One Piece), Goku (Dragonball) and Naruto! Click here for details.
Last but not least, the girls from K-On! are featured as part of the livery of cars from Amamiya and Ridox in the K-On! 1/64 Itasha Miniature Collection Trading Figure. There are 10 different designs to collect, including a really nice RE Amamiya RX-7! Price? USD 7.90. Click here for details.
Powered by

Sidelines
Previous Post VernX (iPhone) Review: Lightning in a Bottle?
Next Post Listen to NFS: SHIFT & NITRO's Soundtrack for Free