Sub Hunt (iPhone) Review: MTV Makes It 3 out of 3!
I once told a story that occured during one of Malaysia's naval war games with Indonesia. While the Malaysian navy thought they actually won the (simulated) war, the Indonesian navy commander brought up transcripts and recordings of the crew of a particular Malaysian navy vessel.
Apparently, an Indonesian sub was directly underneath the ship tagging it throughout the entire war game exercise, recording every single chatter and radio communication without the Malaysian crew noticing it!
LOL. While you won't find that kind of hijinks in AddictingGames' Sub Hunt, you get plenty of shmup action in the open seas. Yup, you read that right, it's a shmup.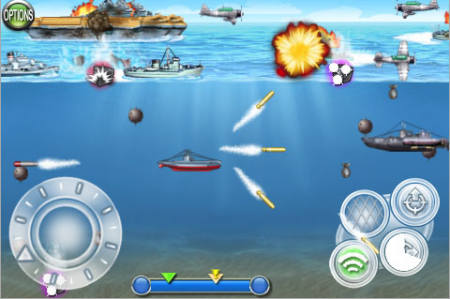 The game places you in control of a single sub, shooting torpedoes either forward or upwards. Each mission has a plethora of enemy ships to shoot at, including subs of different sizes, battleships, cargo ships and even speed boats. But unlike most shmups, each mission has objectives, one would have you destroy an entire convoy of cargo ships.
Aside from contending with torpedoes, enemy vessels launch anti-submarine depth charges that will detonate at different levels and deal out different levels of damage. The occasional power-up will come about from destroying enemy vesells and this will grant you a temporary multi-shot, multi-directional shot, or even area-effect abilities.
Players gain upgrade points from completing missions and these points can be used in the drydock in between missions to upgrade the sub, important if you are actually planning to proceed with the game.
Sub Hunt is another fun outing on the iPhone and with iPark It! and 50 States, that makes three out of three MTV Networks games that have made a positive impression on me. Not bad at all. Sub Hunt is now available on the App Store at a very low price of 99 cents (click here for details).
Powered by

Sidelines
Previous Post Hook Champ Review – Best Indie iPhone Game for 2009?