Fallout 3 Broken Steel (PS3) DLC Review
Broken Steel is probably the best Fallout 3 expansion (among the 5 DLCs) to get once you have finished the original game. Not only does it expand the game (and level cap), it allows you to play beyond the original ending and gives some closure by taking the fight to the Enclave and finishing them off for good.
Personally, the main quest in Broken Steel is a rather short one. If you have hit the original level cap, you shouldn't have a problem completing the entire DLC's main and side quests in a matter of hours. Word of the wise though, get the Hellfire armour if you are one to romp around the Wasteland in a tin can.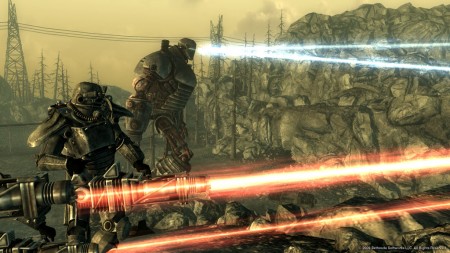 The main draw for me is that there's no longer any ending to the game! Now I have the opportunity to finish the side quests that I missed out (or fail to complete)  in the original game. Tackling them with some really crazy weaponry (e.g. Tesla Cannon) that comes with the Broken Steel expansion should be fun.
The game also adds additional trophies and skills to the game; and while some are really tongue in cheek (try Puppies! for an experiment in reincarnation featuring Dogmeat), most of them can be useful to players.
The Broken Steel expansion however is not without bugs. There are slow downs and pauses here and there, characters getting stuck in places, graphic artifacts but strangely the game never crashed on me once, even though I strongly suspected it would.
In any case, Broken Steel is certainly worth the RM 42 (USD 12) I spent. Now I've to choose which Fallout 3 DLC to purchase next.
Powered by

Sidelines
Previous Post I-play Announces Hip Hop All Star DJ Sweeps
Next Post Announcing AddictingGames' Latest Game: Sub Hunt (iPhone/iPod Touch)