The Return of the Capital Wasteland Wanderer
An energy spike. So that's what that kept me in a coma for two weeks. Poor Sarah is still in a coma. I bet 200 bottle caps that dumping a comatose patient on an operating table is NOT SOP, not even for a field hospital here in the Citadel.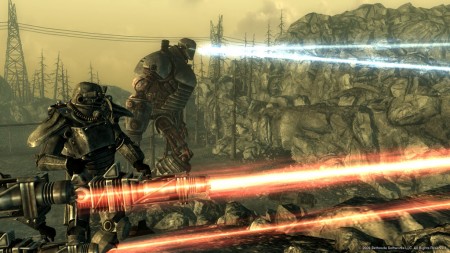 In any case, I'm filled with a new sense of purpose. The Enclave must be destroyed. I took part in a raid on an Enclave satellite communications facility recently only to nearly become collateral damage to an orbital missile strike. Perhaps this haiku can explain the wages of war in this battle:
Scrap metal
Liberty Prime you are
The Brotherhood bemoans
My head still hurts from that damn energy spike and now an orbital strike? Give me a break. If thing couldn't go any worse. I'm now at Old Olney looking for a Tesla watchamalit and there are Deathclaws running around the damn place.
Sometimes I wish I'm back at Megaton.
Powered by

Sidelines
Previous Post Video Game Disclosures on Nine Over Ten 9/10