Need for Speed: SHIFT – Review (Part 1)
Road & Track Presents: The Need for Speed had the distinction of being the first racing game that I purchased for my PC. All in all, I've played all the subsequence NFS titles minus the one with Maggie Q, Undercover.
With all that experience in hand, I can safely say that Need for Speed: SHIFT on the other hand takes out all the unnecessary baggage accumulated from years of feature creep and "street" culture. The game has more in common with the original title, with a focus on realism (without being too overwhelming) and more importantly speed.
To get a sense of what Electronic Arts has done with SHIFT, you'll literally need to get into the cockpit of whatever car you've selected. Like the very first game, you are presented with a detailed dashboard but with the key difference of actually feeling like a driver.
Your head bobbles with every turn and bump, your vision turns blur with every hard hit, you even have to use the right analog stick to peer around the interior or look at the other side-rear mirror.
All this is fine and all, but what this cockpit view conveys best is the terrifying sense of speed, you can't help but feel a little tight in the gut or have jittery feet driving down a straight in the excess of 200 km/h an hour.
I've been spending some time with this game, having gone through the Tier 1 events into Tier 2, and having experienced that, I can safely say that the decision in exorcise the franchise's crazy past, is certainly an excellent move.
Since this is a racing game, I'll split the review into several parts with this being Part 1. In the mean time, take a look at what I'm driving: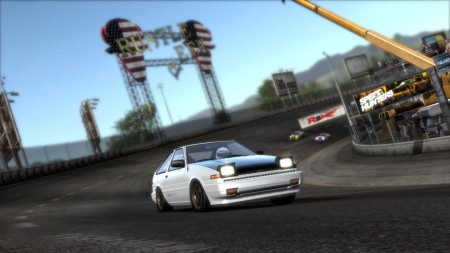 Powered by

Sidelines
Previous Post Malaysian Video Games Industry in EDGE November 09 Issue
Next Post Fallout 3 DLCs Out Now on Asian Region PlayStation Stores