BREAKSPIN (iPhone/iPod Touch) Review
When Disney first announced that it was getting into iPhone apps and games, I thought along the lines of franchise tie-ins. And true enough, the line-up included Toy Story Mania! and Toy Story Photo Hunt. However, there was a curious standout and without hesitation I jumped on the chance to review BREAKSPIN.
BREAKSPIN exudes a level of sheen that I've not seen in quite some time and while this might be due to the slick, glowy presentation, BREAKSPIN is really pretty to look at. Essentially a derivative of PONG, players control two curve paddles in a circular arena.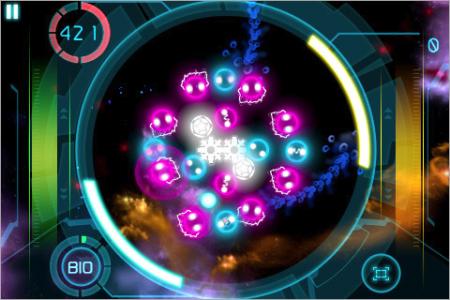 Using the curved paddles, the player bounces a ball to hit the gems in the middle of the arena. Some of the gems may take more than one hit to be destroyed and each hit may result in the ball flying in a different direction, so players will have to quickly move the paddle(s) to intercept.
Paddle movement is controlled by sliding the thumbs on either slide of the screen and while there's another, direct method, that can be toggled from the options screen, I much prefer this.The game's beautiful art direction, reminiscent of Geometry Wars, is complimented by a really good soundtrack, something that's been missing lately from the games that I've been reviewing.
BREAKSPIN however is not without flaws. As you destroy gems you get to activate certain "biohazards", like drawing up a temporary area where the ball cannot escape, but accessing these special abilities require pausing the game, selecting the ability and then activating it. It feels a little forced and more often than not, you'll forget about accessing these special abilities in the heat of battle.
That minor gripe aside, I'm actually pleasantly surprised at the level of polished put into the game, there's even a Bluetooth multiplayer option which unfortunately, I didn't get to try out, as well as online leaderboards!
BREAKSPIN is available at the App Store for just USD 2.99. Click here to purchase and download the game.
Powered by

Sidelines
Previous Post Strange Night: Of Owls And Cobras
Next Post Batman & Robin #5 Review