Chess Elite (iPhone/iPod Touch) Review
I can safely say that yesterday was the first time I've beaten a computer opponent at chess. How did I achieve that? Well, I simply dialed down the computer's response time to 4 seconds in 99Games' Chess Elite for the iPhone/iPod Touch. Once I did that, the AI becomes a fan of making random moves.
This doesn't indicate that the game is a pushover though. In fact, set the AI response time to the maximum of 120 seconds and you have to get ready to get your ass handed to you in a game of chess.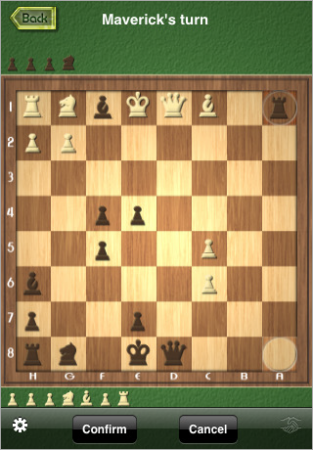 Judging by my opening statement, I'm not really proficient at chess but getting a win did boost my confidence somewhat. And I won it without using the suggest-a-move button and I just used the undo button once (the touch screen was a bit fiddly at that time, resulting in a mis-step that needed to be undone).
Chess Elite does feature an online mode which I didn't get to try but if you are with a friend and have  just one iPhone between the two of you, check out the "pass & play" mode.
Chess aficionados shouldn't find any excuse not to add the game to their  iPhones and at 99 cents, it's a bargain! Click here to purchase and download the game from the App Store.
Powered by

Sidelines
Previous Post Superman/Batman: Public Enemies Movie Review
Next Post On Behalf of Asian Region Fallout 3 Gamers, Here's Mariah Carey