Chuck Norris Facts: The Video Game Edition
Chuck Norris, he is so cool that even if you think otherwise, one roundhouse kick to your face will set you straight. Yup, Chuck Norris, he's the man, but when it comes to video games, the Chuck Norris facts are a little thin (taken from chucknorrisfacts.com). Here goes: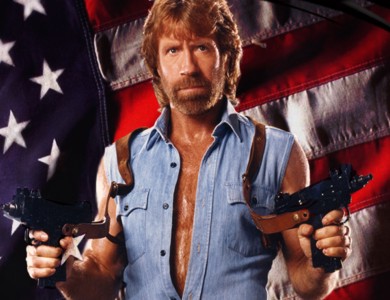 Chuck Norris originally appeared in the "Street Fighter II" video game, but was removed by Beta Testers because every button caused him to do a roundhouse kick. When asked bout this "glitch," Norris replied, "That's no glitch."
The Chuck Norris military unit was not used in the game Civilization 4, because a single Chuck Norris could defeat the entire combined nations of the world in one turn.
Chuck Norris always knows the EXACT location of Carmen SanDiego.
When Chuck Norris plays Oregon Trail, his family does not die from cholera or dysentery, but rather, roundhouse kicks to the face. He also requires no wagon, since he carries the oxen, axels, and buffalo meat on his back. He always makes it to Oregon before you.
Chuck Norris can be unlocked on the hardest level of Tekken. But only Chuck Norris is skilled enough to unlock himself. Then he roundhouse kicks the Playstation back to Japan.
Looks like we're missing some facts here, care to add some?
Powered by

Sidelines
Previous Post Flower (PS3): Now Featuring The Mum Review