Fallout 3 DLCs on the Sony PS3: Coming Starting Next Week!
It's has been long time coming, but come next week, Fallout 3 owners on the PS3 will finally get to enjoy what PC and Xbox 360 gamers have been playing, the Fallout 3 DLCs (a.k.a add-ons)! According to GameSpy, the release schedule is as follows:
September 24th: Broken Steel
October 1st: Operation Anchorage & The Pitt
October 8th: Point Lookout and Mothership Zeta
In order to prepare for this, launch Fallout 3 today and you'll be required to install an all new update (version 1.6). What this does is to add new trophies for ALL the add-ons and also add a download option to the menu. I've not downloaded it but some sources mentioned that it weighs in at a mere 21 megabytes.
But if you are new to the game and simply don't want to go through the hassle of updating the game twice (first update was to install trophies for the original game) and then download the DLCs, or you just simply want an all-in-one pack, the Fallout 3 Game of the Year Edition is the one for you!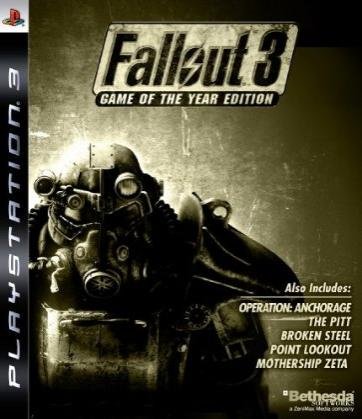 This features the original game and all 5 add-ons and is scheduled to be released on the 13th of October. The game is available for pre-order over at Play-Asia for the Xbox 360, Sony PS3 and PC platforms (click on the respective platform names for details).
I think I'll be going for the GOTY edition. What about you guys?
Powered by

Sidelines
Previous Post Comic Books Updates: Blackest Night and Captain America: Reborn #3
Next Post Grab Your One Piece 10th Anniversary Pirate (Jolly Roger) Flags