9: From Movie to iPhone/Mobile Game
"9", directed by newcomer Shane Acker and produced by veteran Tim Burton, has been generating a lot of buzz today, not only due to amazing CGI work and interesting storyline, but the fact that the film is released today, on the 9th of September 2009 (09.09.09).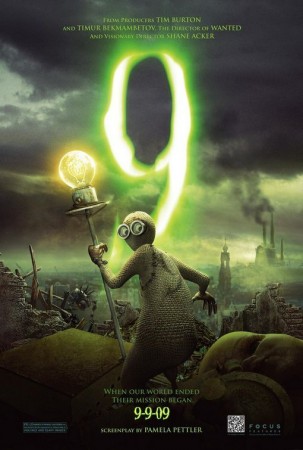 Even the mobile phone game based on the movie is released on the same date as the film. Check out the following press release detailing both the game, and the movie (for the benefit of those who are curious or have not heard of 9):
SKYZONE® ANNOUNCES 9: THE MOBILE GAME,AVAILABLE ON MOST MAJOR U.S. CARRIERS AND AT THE APPLE APP STORE
Game Based on Focus Features' Animated Fantasy Epic Out 9/9/09
North Bergen, N.J. – September 9, 2009: SkyZone Entertainment, Inc., a leading provider of premium mobile games, content, and services with strong deployment capabilities, today announced the wireless game version of one of the most anticipated movies of the year – Focus Features' 9.
Developed through an agreement with Universal Partnerships & Licensing, and available for download with most major U.S. carriers and on iPhone™, 9: The Mobile Game will launch in conjunction with the feature film's nationwide release by Focus on Wednesday, September 9 – 9/9/09.
An action-packed adventure, director Shane Acker's animated fantasy epic 9 is the feature-length expansion of his Academy Award®-nominated 2004 short film of the same name. Tim Burton (Beetlejuice) and Timur Bekmambetov (Wanted) are among the feature's producers; the film's screenplay is by Pamela Pettler (Monster House); and the movie's voice cast of 9 includes Elijah Wood, John C. Reilly, Jennifer Connelly, and Crispin Glover.
SkyZone has developed the 9 storyline into a mobile game and will distribute it through the company's extensive network of carriers and partners. The deal reinforces SkyZone's strong position in mobile gaming and adds to the company's growing list of licenses with strong brands.
"SkyZone is committed to making quality games, and we are honored that Universal has chosen to partner with us again," said Key Sar, Chief Marketing Officer, SkyZone Entertainment. "To be able to join the creative process with such wonderfully creative and unique visionaries is a once-in-a-lifetime opportunity for our developers. Films produced by Tim and Timur lend themselves perfectly to interactive platforms, and we fully expect the mobile game to appeal to their legions of fans and the millions of people who will rush to see this movie."
"9: The Mobile Game allows fans of the film to immerse themselves in an action-packed game that they can play virtually anywhere, anytime," said Bill Kispert, Vice President, Digital Platforms, Universal Partnerships & Licensing. "The talented team at SkyZone has cleverly integrated the various 9 characters and their unique abilities to bring depth, richness, and challenge to the overall gaming experience."
Featuring stunning graphics and captivating scenery, 9: The Mobile Game features 15 levels with various landscapes and parallels the story told in the movie. Taking advantage of the device's technological capabilities, the iPhone/iPod Touch version includes enhanced graphics and sound as well as full sets of animations.
The partnership with Universal continues a relationship between the two companies that began with the launch of the Animal House mobile game in 2008.
About 9 (www.9themovie.com):
The time is the too-near future. Powered and enabled by the invention known as the Great Machine, the world's machines have turned on mankind and sparked social unrest, decimating the human population before being largely shut down.
But as our world fell to pieces, a mission began to salvage the legacy of civilization; a group of small creations was given the spark of life by a scientist in the final days of humanity, and they continue to exist post-apocalypse. Another of their own, #9 (voiced by Elijah Wood), emerges and displays leadership qualities that may help them survive and possibly even thrive.
The conflicted but resilient tribe already includes #1 (Christopher Plummer), a domineering war veteran and the group's longtime leader; #2 (Martin Landau), a kindly but now-frail inventor; #3 and #4, scholarly twins who communicate nonverbally and mostly with each other; #5 (John C. Reilly), a stalwart and nurturing engineer; #6 (Crispin Glover), an erratic artist beset by visions; #7 (Jennifer Connelly), a brave and self-sufficient warrior; and #8 (Fred Tatasciore), the none-too-bright muscle and enforcer for #1.
With their group so few, these "stitchpunk" creations must summon individual strengths well beyond their own proportions in order to outwit and fight against still-functioning machines, one of which is a marauding mechanized beast. In the darkness just before the dawn, #9 rallies everyone of his number to band together.
While showcasing a stunning "steampunk"-styled visual brilliance, 9 dynamically explores the will to live, the power of community, and how one soul can change the world.
Powered by

Sidelines
Previous Post Contra Rebirth Release Announced: Trailer and Screenshots Available
Next Post Transformers Henkei C-09 Lambor (Sideswipe) Bargain Sale