Konami's Silent Scope (iPhone) Announcement
I don't quite remember the arcade game Silent Scope, but nevertheless, Konami released the game for the Apple iPhone/iPod Touch back in April 2009. If you haven't gotten the game at that point of time, good news, as the game is now at an offer price of just 99 cents from the 27th to the 29th of August 2009.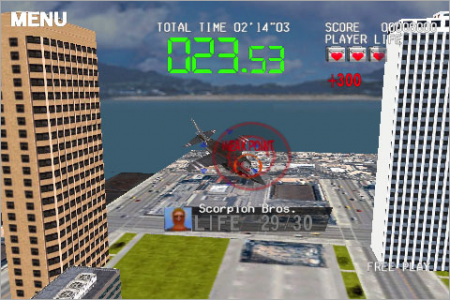 Check out the press release below:
SILENT SCOPE NOW AVAILABLE FOR 99 CENTS ON APP STORE
Gamers Warm up Their Sniper Skills as They Get the Chance to  Own the Popular Arcade Game for Less
Konami Digital Entertainment, Inc. today announced that Silent Scope for the iPhone and iPod touch is now available on the App Store for 99 cents, exclusively from August 27 to August 29. Based on the popular arcade game originally released in 1999, players test their marksmen abilities on the go as they protect and defend the American First Family in the fast-paced rail shooter.
Silent Scope takes full advantage of Apple's innovative Multi-Touch user interface, enabling players to save the President and the first family from terrorists. Throughout the game, players can chose from two different gameplay modes including Arcade Mode and Training Mode. The Training Mode allows new players to practice precision shooting, while the Arcade Mode features three stages of gameplay for the veteran sniper: Story, Shooting Range and Time Attack. Additionally, Arcade Mode gives all players the chance to change the game settings to Difficulty, Player Life and Branch Attack.
Silent Scope is now available for 99 cents from August 27 to August 29 only on the App Store for Apple iPhone and iPod Touch. Click here to purchase the game from Apple's App Store.
Powered by

Sidelines
Previous Post New Mario Kart Wii Merchandise – Key Chains
Next Post Power Pros Touch (iPhone) Discount and New Lite Version Announced