Kolonists for iPhone: New Lite Version and Updates
Here's a bit of trivia for you in the morning, what's the #1 board game for the iPhone in the Netherlands and Denmark? Well, it's a game  from Kayxo called Kolonists. Now you to get to try it out for free with the release of Kolonist Lite.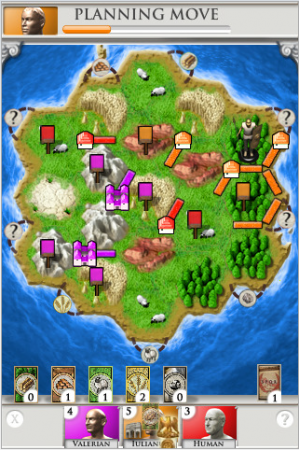 The following is a summary of the game:
Kolonists is a game of strategy, construction and politics in the ancient Roman Empire for 3 to 4 players. Players will be able to build, gather resources, trade and even use their Clan's senatorial connections to turn the local barbarian tribes against their opponents!
The objective is to get the influence needed in order to become Governor of Kayxo Island, and earn Glory for Ages! Kolonists features top-notch original art, great music and an addictive game-play that will keep players hooked to their iPhone / iPod Touch for hours!
The Lite version has all the gameplay from the Paid Version, but with a few limitations (only six influences to win or lose the game, less player customization and lack of career mode).
In the meantime, the people at Kayxo are also busy with the last stage of production for the upcoming new version of Kolonists, featuring LAN Multiplayer support.
Check out the following links for your Kolonists fix:
Powered by

Sidelines
Previous Post Ode to GRIN: Thanks for the Trophies!
Next Post I Can Has Sony PS3 at 299?