Obsessed: Movie Review
The only other movie that I can compare with Obsessed is Michael Douglas' and Demi Moore's Disclosure. But having said that, Obsessed is a little more straightforward with a (less of a cautionary) tale of a delusional woman (Lisa – Ali Larter) going after a married man (Derek – Idris Elba), whose wife (Sharon – Beyonce Knowles) ends up taking her on in the end.
The movie's tagline is "All's Fair When Love Is War", and if this were a real war, Ali Larter's crazy (but hot) chick character, Lisa, would be the one engaging in  some form of kinky, if not twisted form of guerilla warfare. Ambushing her prey Derek, and not above getting him drunk/drugging him as well as staging her suicide and faking the kidnapping of the couple's only son, she's some piece of work.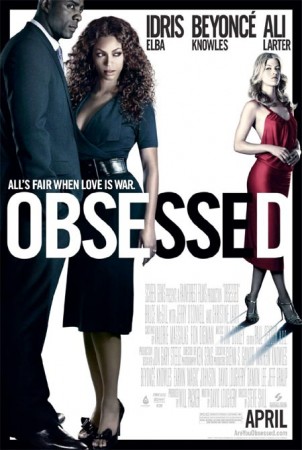 It's just too bad that the film doesn't make full use of her, or the rest of the cast for the matter.
Even though hen-pecked husband Derek is the victim here, he gets let off easy without showing much of the psychological stress from Lisa's harassing actions. It doesn't seem to damage his credibility by much in the workplace and while he does get thrown out of his own home by his disturbingly also obsessive wife, he goes about business as usual and finally gets let back in.
The script is partially to blame for failing to keep the pressure up. Lisa will occasionally disappear and the movie just plods along until the finale with the answer to Lisa's guerrilla warfare in the form of a beatdown by Sharon.
If you are planning to watch this at the cinema, wait on it, it's probably a better watch on HBO or as a weekend rental.
Looking back, it looks like I've been seeing double this weekend, as in double features of Brendan Fraser (Monkeybone and The Mummy: Tomb of the Dragon Emperor) and Beyonce Knowles (Dreamgirls and Obsessed).
To sum it up (and not wanting to write 3 other reviews) Monkeybone was just a movie with bad taste, Tomb of the Dragon Emperor was disappointing with Maria Bello a poor replacement to Rachel Weisz, and last but not least, Dreamgirls was really good and I think Eddie Murphy should be given a break and that Oscar.
Powered by

Sidelines
Previous Post Nintendo DS Bargain Bin Titles & Cheap GameCube
Next Post On The Subject of Nokia Phones Not Getting Love in America