The Thing About Being in the Top 100 Malaysian Blogs
I honestly didn't expect Nine Over Ten 9/10 to be on Rice Blogger's Top 100 Malaysian Blogs, and being  70-something on the list just makes me want to do a better job with this blog.  I told my girlfriend that despite being on the list, there's absolutely no chance anyone is going to stop me anywhere to ask whether I'm Mr. Nine Over Ten 9/10.
It boils down to 2 reasons: a. I rarely talk about the blog and even so, its to a limited number of people, and b.  I don't have my mug plastered on the blog. I think I did a pretty good job going incognito, since my friends and my mum ("Are you in the News Straits Times today") only found out about the blog this year, 3 years after Nine Over Ten 9/10 was started (one can only say "I don't blog" for a limited number of times).
The reason for such err, secrecy, is because I always felt that being recognisable in public for what you write online is a double-edged sword, and a very sharp one at that, especially if you choose to upload your life to the Interwebs. And while I'm really sure my life is filled with blog-worthy material (e.g. I was on the front cover of a certain Tech pull-out for a certain popular English newspaper, cough), I prefer to talk about games.
Why? Because it's easier (you need two opposable thumbs, well, not really), very satisfying (especially when I beat a game before writting about it) and many many more people can relate to the subject matter. So if you are here to see whether I'm ranting about work, tough luck.
I would like to take this opportunity to thank my readers, fans, comrades and all those nice PR people and indie developers who decided that Nine Over Ten 9/10 deserves to get some delicious scoop material (thanks Romeo, Lauren, David, you guys know who you are). Without all your support I don't think this blog would be anywhere near that list. Thanks to Rice Blogger for coming up with the list as well.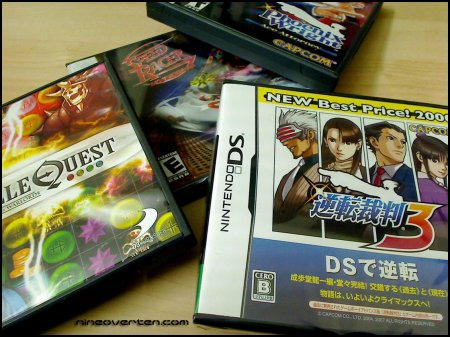 Ok, back to some gaming items. I've updated the About Nine Over Ten 9/10 page, I somehow forgot to add the Dreamcast along with the two SNES consoles to the list of consoles that I own. Say hi also to the latest addition in the list, the pink Game Boy Color.
I'm on a budget here, so anyone interesting in selling a PSOne, a Sega Genesis or a Gamecube to me? Do e-mail me. Now, time to blast some aliens in Space Invaders Extreme on the Nintendo DS.
Powered by

Sidelines
Previous Post Star Trek: The Rare Occasion When I'm A Fanboi
Next Post Terminator Salvation: Game Over for the Resistance