Disappointed With Wolverine Movie? Try The Animated Feature
Hey bub, if you are somewhat disappointed at how Wolverine, Sabretooth and most importantly Deadpool were potrayed on the silver screen in Wolverine, you'll probably need to watch the 37-minute long animated movie Hulk vs. Wolverine.
While the headlining character is supposed to be the Hulk, the recently released animated film by Lionsgate (they have probably done every single Marvel animated movies for the past 3 years), Hulk vs. Wolverine actually depicts Wolverine taking on his former Weapon X colleagues (Sabretooth, Lady Deathstrike, Deadpool and Omega Red) as well as the not-so-jolly green giant.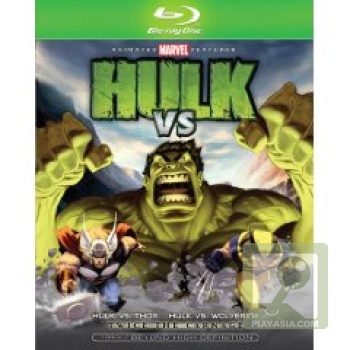 Far from being just a slugfest, Hulk vs. Wolverine one-ups the live action movie by depicting Wolverine's Weapon X storyline much closer to that of the comic books where he was kidnapped, forced to under go the adamantium bonding process and brainwashed to be a killing machine. And unlike the Teen-friendly Hugh Jackman vehicle, we get to see plenty of bloodshed and people getting beaten up in the animated movie.
Potrayals of side characters are pretty much spot on. Sabretooth has the crazy look to match his sociopathic behaviour and thankfully, he is not related to Wolverine. Deadpool gets some of best lines of the movie and he talks, ALOT.
The only blemish here is how Dr. Banner is made into this wimpy cry baby. This however is pretty consistent with how Lionsgate has been potraying this character in a stereotypical, under appreciated manner  in the previous movies (Ultimate Avengers) that you can't help but feel sorry for the green guy's alter-ego.
Hulk vs. Wolverine is one half of the Hulk VS animated feature. The other half is Hulk vs. Thor, which sees the green giant in Asgard. Pretty interesting stuff Lionsgate is coming up with these days, lets just hope that they continue to do so.
And yeah, what do I think of the opening sequence for Hulk vs. Wolverine? It's way cooler compared to the Wolverine movie, which I, not suprisingly, do not seem to be able to recall.
Hulk VS is out on Blu-Ray and you can purchase it for under USD 30 here with free international shipping to certain countries.
Powered by

Sidelines
Previous Post Final Fight: Battle of the King of Fighters XII Box Art!
Next Post Gyakuten Kenji Themed Nintendo DSi – Out Next Week