The Thing About Comments and SEO/Make Money Online Blogs
I had someone commenting, well, more like rambling on why the main characters in Prototype and Assassin's Creed wore hoodies. It sounded like a drunk trying to explain stuff and so I promptly deleted the comments.
If you are out there, Artistdualprogrammer, come back when you are sober. One more thing, I used to think that SEO and Make Money Online were niche topics, but when it comes to Malaysian blogs, they are pretty much mainstream topics.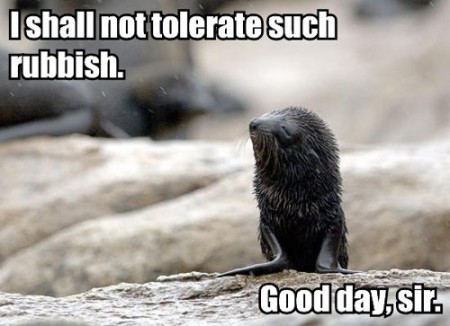 Too bad the majority of Malaysian SEO and Make Money Online blogs are full of gibberish, some of them being grammartically challenged and more are guilty of plagiarizing their content from somewhere else. If you have an SEO/Make Money Online blog and you are looking for a link exchange with Nine Over Ten, you better bring your A-game because I don't link up with rubbish.
*Baby seal courtesy of icanhascheezburger.com.
Powered by

Sidelines
Previous Post NDS Review: Desktop Tower Defense