NDS Review: Desktop Tower Defense
I tried out Field Runners on my friend's iPhone the other day and while I liked the game, I can't help but feel that it would have played better with a stylus.
At this day and age, you can trust that someone will come up with that, but on the Nintendo DS. THQ's Desktop Tower Defense may look cheap (but hey, you can customize the bitmap graphics pixel by pixel), but it plays like its more heralded iPhone-based cousin, with judicious use of the stylus of course.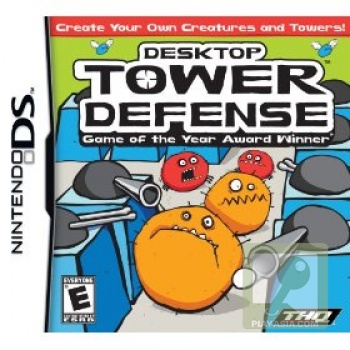 The main gameplay mode is enough to keep players busy defending from wave after wave of enemies, and this itself comes with three difficulty levels. I managed to pass the Easy mode without breaking a sweat but I've yet to face the horrors Medium and Hard have to offer.
Complementing this are the Challenge and Fun modes. Fancy facing 100 waves of creeps or creeps spawning every second? These modes can fulfil your sado-masochistic Tower Defense tendencies and then some. It's a shame though the game doesn't come with a scenario builder, it would have been more fun, especially if you can trade scenarios with a friend.
As mentioned earlier, the game comes with a bitmap editor. You can use this to change how your towers and creeps look like. Again, the lack of connectivity and sharing options are a little bit disappointing, as there is plenty of potential from this.
In any case, Tower Defense is finally here as a piece of commercial software for the Nintendo DS, and far superior to that of the homebrew game known as Warcraft: Tower Defense. Desktop Tower Defense is available starting May 18th. Interested? Click here to order.
Powered by

Sidelines
Previous Post It's Coraline!
Next Post The Thing About Comments and SEO/Make Money Online Blogs