It's Coraline!
Going on holiday is a pretty good excuse to catch up on video gaming. In my case, I actually managed to finish a Nintendo DS game in less than 24 hours.
Adapted from a movie which was in turn adapted from a Neil Gaiman fantasy horror story (he of The Sandman and Stardust fame) of the same name, Coraline is an adventure game with a mixed bag of tricks in the form of mini games and at times it is guilty of being tedious and convulated.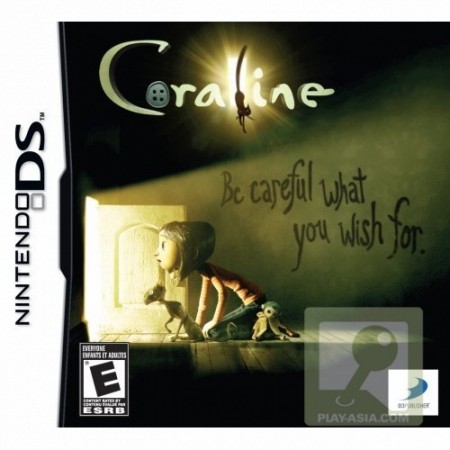 The premise however is pretty interesting (read the book or watch the movie if you have the time), with Coraline and her family moving into a house with pretty strange tenants in the attic and the basement. Stranger still is a door to an "Other World".
This "Other World" mirrors the one where Coraline lives in but the inhabitants, including her "Other Mum" and "Other Dad", seem to treat her better than her real parents. Like a good horror story, there's more than meets the eye (pun intended, look out for them button-eyes), but I won't spoil it for you.
As an adventure game, Coraline does look pretty good on the Nintendo DS, as everything is in 3D. It's downright gorgeous during the "Other World" segments, particularly in the final chapter of the game.
The mini games however are a different kettle of fish. With the variety of mini games available, there's practically something for everyone if the execution had not been half-baked in the first place. You  have the poor clone of EBA mini-game as well as a horizontal boss chase (and a vertical one as well) and a couple of whack-a-mole type of games. While most of the mini games have in-game instructions, you'll have to second-guess the game for some of them.
Inteprid players will find that back-tracking and revisting rooms within the house as well the limited number of outdoor locations to be the order of the day, lesser gamers will probably get put off by this as the reward doesn't really justify the means. As for me, I stuck on for the story, which is one of the better ones that I've seen on the DS so far the flawed gameplay wasn't enough to deter me.
Coraline is now available at a bargain bin price of USD 24.90. Click here for further details.
Powered by

Sidelines
Previous Post Exclusive King of Fighters XII Videos Released!
Next Post NDS Review: Desktop Tower Defense