Windows 7 Installed: First Impressions
I'm actually typing this post on my least favourite browser, Internet Explorer, in its latest iteration, IE 8. I wouldn't be using this browser by choice, but since it comes with Windows 7, I might as well give it a spin, or two.
I just finish installing Windows 7 onto my home PC. The specs are that of an average home PC which has seen better days (Athlon 64 XP 3000, 1.5 GB RAM, 256 MB ATI 1600 Pro video card) and i opted fr a clean install onto a 40 GB single partition hard drive.
The installation process was really fast, faster than that of Windows Vista, and is warp speed compared to th 1/4 impulse power during Windows XP's installation process (regarding the Star Trek analogy, someone better take me to watch the new one, quick!).
The only hiccup that I encountered during installation was the drive  selection. I wanted to delete two partitions to combine into one, but the installer prevented me from doing so. I ended up deleting all the partitions in the drive to create a single partition. Meh.
But like I said, the installation process was fast and it didn't take long for me to be staring at the Desktop. While it does look like Vista, the desktop and its new icon based bar at the bottom looks as though it got ripped of Ubuntu or something.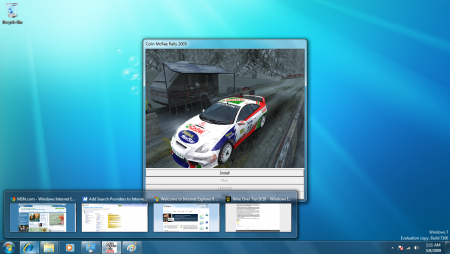 Linux comparisons aside, Vista users should feel right at home here. Even the annoying UAC warnings are still around. The Operating System didn't detect my soundcard at first along with my USB WiFi Adapter. While Windows 7 accepted XP drivers for the motherboard and integrated soundcard, I had to download Vista drivers for my WiFi adapter.
I tried installing Colin McRae 2005 but the installer didn't budge beyond the splash screen, even after fiddling with the compatibility troubleshooter. Fed up, I then managed to successfully install something more contemporary, Red Alert 3. The game ran  rather smoothly, better than when it was on Vista.
The new version of Paint is almost unrecognisable, with plenty of features that makes the current one look severely anemic. On the other hand, IE 8, is still pretty crappy. It doesn't even render this page properly. Dang.
Although my main method of testing is a little unorthodox, I find Windows 7 pretty interesting. Next would be to load the OS with the whole shebang (Office 2007, Photoshop and an entire gamut of games). Until then, stay tuned.
Powered by

Sidelines
Previous Post Incoming! New Terminator Salvation Video and Photos
Next Post Malaysian Animal Abusers, Now with International "Reknown"