Space Invaders Extreme 2 (NDS) Review
Amidst of a techno-soundtrack, a voice announces to you: "Don't let the enemy freak you out!" If you haven't realized it already, this is the familiar Space Invaders Extreme experience, only made  more colourful, more psychedelic, more pumped up in it's sequel, Space Invaders Extreme 2. While the former was great, it felt like a bit disjointed at times; SIE 2 solves this by featuring very smooth level transitions and with all the improvements mentioned earlier, even more crazier than before in the quest for the next high score.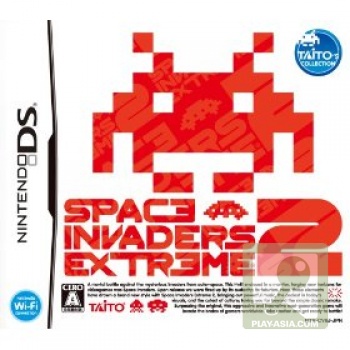 Gameplay is divided into several modes, the Score Attack being the primary mode to unlock stages. Time Attack, is well, a race against time to complete stages. Hardcore gamers would be interested in the Ranking mode, whereby high scores from the sub Score and Time Attacks can be uploaded to a global high scores list.
Players can also select which stage they would like to revisit and play in the Stage Select mode.  Multiplayer support is excellent here with both WFC and local WiFi play.
Like I said earlier, there's something about the SIE 2 that drives you to get an even higher score than your previous attempt. Whether is it done by chaining combos, or shooting to the sequence of the music or even collecting bonuses dropped by enemies, you'll want to do ALL of that. For those of you who enjoy a good bit of techno with your games, SIE 2 is like a techno Electroplankton on crack; shooting enemies actually create sound effects that compliments the soundtrack!
This is the shmup to get at the moment for the Nintendo DS. Currently available in Japanese, the game is accessible even for non-Japanese gamers as the user interface is really straightforward, and as described in the first paragraphs, all announcements are in English!
Interested? Click here for purchase information.
Powered by

Sidelines
Previous Post Now on 2.7.1