Henry Hatsworth (NDS): A Review – So Puzzling It's Great!
While Henry Hatsworth might seem like any other platformer, (Konami's Castlevania and Nintendo's Super Mario Bros come to mind) what separates it from the rest of the pack is its puzzle mode, or "meta-game".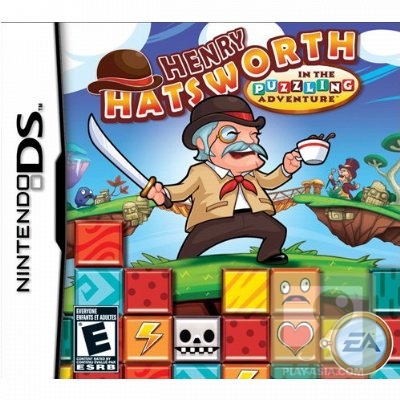 Killing enemies and obtaining items while in the normal, 2D-platform mode doesn't mean the enemy is dead or the item (e.g. life hearts, bowler hats) can be readily consumed. No Sirry! They'll manifest themselves on the puzzle mode, which is something taken off Planet Puzzle League.
You'll need to kill 'em dead (when it comes to enemies) or really obtain the items, by arranging the coloured blocks (enemies and items appear as coloured blocks too) as horizontal/vertical rows of 3 blocks or more! Failure to address the enemy blocks can have dire consequences, as they'll appear as falling blocks like the Thwomps that appear in some Mario games.
What's preventing you from staying in the Puzzle mode (press X to enter the mode in the first place, 2D platform mode is paused when you do this) indefinately is a Puzzle mode bar that decreases over time when you are in that mode. One way of charging it will be defeat enemies and pick up the jewels dropped by them.
Arranging the coloured tiles will charge your Super bar (or something like that). Once this is full, you get to activate Henry's powerful robot mode. Heh…it's Henry-Smash time.
Anyways, this game is a challenge. While the 2D platforming is easier than NSMB (at least Henry doesn't slip and slide like the plumber Mario), the puzzle mode is a frantic and exciting experience added on to what might have been a staid, stale, derivative.
For purchase details, check out Play-Asia's page on Henry Hatsworth in the Puzzling Adventure. Click here for details.
Powered by

Sidelines
Previous Post Play-Asia's Lucky Spring Sale ~ Until the End of March 2009!