Rittai Picross (NDS) Review with Gameplay Video!
Ever felt there's only so much a 2D Picross puzzle can offer, and that you need a new challenge? How bout taking your conventional Picross puzzle and add a Z-axis twist to it. Yup, that is just what the boys and girls at Nintendo and Hal Laboratory did for Rittai Picross!
This is Not Your Father's Picross
While Picross DS had you puzzled on a 2D field, Rittai Picross will have you colouring or breaking blocks based on the number clues given to unlock 3D block renditions of anything from pets to daily items.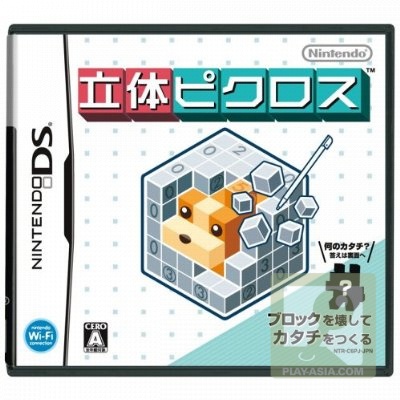 The game comes with a whole bunch of tutorials before you start and in between levels. This is done to get you up to speed on techniques needed to solve the 3D Picross puzzles. While 2D Picross veterans can basically jump right into the game, there's no skipping these mandatory tutorials.
Now in 3D
In any case, the real meat of the game is in the puzzles. Presented in 3D, you can move the camera around puzzles, to give you a clearer picture on what to mark or destroy. You can only mistakenly destroy up to 5 blocks; anything beyond that is game over (personally, I have not reached that mark). Puzzles are also timed with a stop watch running at the top screen.
The idea of solving 3D Picross puzzles can be pretty daunting, especially at higher difficulty levels. Here's a video on solving several of those "easier" ones:
The Bottom Line
Rittai Picross is a must have for Picross fans. While there are other features that I've yet to explore, the main part of the game is pretty accessible despite being in Japanese and should provide some interesting challenges until the next Picross sequel comes along. The game is available at Play-Asia for USD 44.90, click here for details.
Powered by

Sidelines
Previous Post May 8th: To Boldly Go…
Next Post Very Expensive Video Game Bundle Just Gotten a Little Cheaper