Monster Jam: Urban Assault ~ Surprisingly Good!
Monster Truck racing is a pretty big thing in the US and sight of a truck with oversized wheels crushing a junked car never fails to trigger awe/excitement and is often accompanied by cheering and hooting from spectators.
Now, imagine taking all that power and making these Monster Trucks race each other in town! That scenario would certainly be a law-enforcement nightmare in real life, but thanks to Monster Jam: Urban Assault, you can do so through the confines of your Nintendo DS.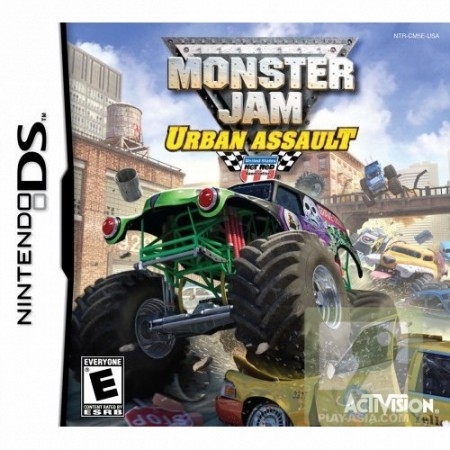 Sports Entertainment
Monster Jam: Urban Assault brings about the Monster Jam event experience to the Nintendo DS. Calling this a racing game would be a disservice as the game really has a little of Tony Hawk and SSX in its gene pool.
The game's Championship mode further divides into 4 different race categories, namely Smasher, Speedster, Stuntman and World Series. Take this piece of advice, give the circuit racing category (Speedster) a miss and check out the Smasher, Stuntman and World Series categories. These make up the reasons for having the game in your shelf.
Descriptions Descriptions
The Smasher events will have you driving around an open course smashing into stuff. The more stuff you smash into (double decker buses are likely targets aside from the normal trees, cars, bus stands, etc), the higher your score. Stuntman events will have you pulling off stunts like mid air spins, wheelies, and jumps in  a bid to get a high score.
The World Series is a culmunative of the three other events and has something else which is distinctive to this category only (more on that later).
Real-life Monster Jam is similar to that of the F1 circus and sure enough, you are to choose a location right after choosing a race category. Score enough points in one race and you'll unlock more locations to race on in a particular category.
Pretty Realistic
The game presents itself really well in full 3D with no noticeable lag. To really get a feel of what the 3D engine can do and how it feels like driving a Monster Truck, switch to the bumper cam during a race and get ready to experience a heck of a ride. The camera moves about in a realistic manner and I'm actually quite surprised at the effort made to make this work.
I've haven't actually driven a Monster Truck before but I've got no complaints over the handling of these vehicles in the game. Being tall vehicles with higher than normal centers of gravity, it's pretty easy to comprehend that these are ungainly machines and the game conveys this pretty well along with all the bumpy suspension motions.
Voice Acting and Instant Gratification
While the first three categories feature little if no voicework, the World Series races will have you hearing full-blown commentary. From the announcement of your vehicle choice right from the get-go to describing your stunts, it is pretty engaging.
The instant action mode provides plenty of events, from participating in "Monster Jump" and Freestyle events to performing "Air Strikes" and "Skill Jumps" with your oversized jalopies. It's a shame though that there's no WFC nor online leaderboard functionality. I would certainly want to post up my Stunt scores for all to see. There is however, local WiFi multiplayer support.
The Bottom Line
I have a hunch that Monster Jam: Urban Assault will be one of the more underrated racing games of 2009, much like how I felt about Speed Racer: The Video Game in 2008 (turned out to be true!). Don't let this game slip into obscurity, click here for purchase information.
Powered by

Sidelines
Previous Post Tales of a Capital Wasteland Wanderer Part 3
Next Post Looking Through: Mario & Luigi RPG Series Game Covers