Lord of the Rings: Conquest PS3 First Impressions
I killed Sauron, you know, the big bad baddie from Lord of the Rings, today. No, I was not participating in some real life re-enactment of that battle between the combined forces of Men and Elves against Sauron in Middle-Earth's second age, but rather, I was playing the demo version of EA's up and coming Lord of the Rings: Conquest.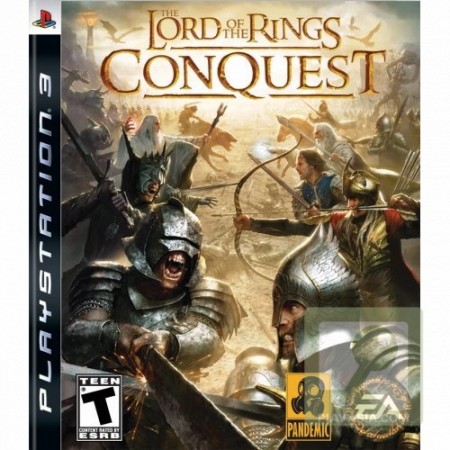 The game states that it supports 16 player multiplayer online, and I guess this online approach is going to be a key highlight of the game, judging that it is place higher than the single player option. But 16 players..come on.
Anyways, I had trouble connecting to the servers for a match and I ended up going through the single player training mode. But before I start talking about the single player experience, lets talk about what LOTRC is about. Think of it as one of Dynastry Warrior games, crossed with J.R.R Tolkien, rather Weta Digital's take on LOTR material.
The tutorial lets you experience 4 different classes in the good guys' army, namely the warrior, archer, scout and mage, all of which have distinct combat styles and rather un-Tolkien-like moves/abilities. The warrior comes with a flaming sword ability and can dash (Rurouni Kenshin style) and even spin like a top, blade ablaze. Some one in Pandemic Studios (the guys making this game) must really love Dynasty Warriors.
On the other hand, the scout can cloak like the Predator from the AvP movies and the mage, well, he pwns Gandalf in terms of abilities, and the mage is definitely not magic shy.
The inspiration from Dynasty Warriors doesn't stop there, there's also a hit counter, and also a combo movelist.
At the end of the training mode, the player is given the option to use Ilsidur instead of the normal classes of characters. He shares a lot in common with the Warrior class and if there's one thing I noticed, Sauron automatically locks on to the player's character, regardless of what he or she had chosen. So..run!
While the game tries to convey a sense of "epic-ness", I can't hep but feel like it is one of those PS2 LOTR games, and indeed it does look the part! Puzzling eh?
In any case, "16 player multiplayer mode" should be a key attraction, lets just hope that the battlefield is persistent. Looking forward to Lord of the Rings: Conquest? Click here to pre-order. It wouldn't be long now, the game is due mid-January 2009.
Powered by

Sidelines
Previous Post Bargain Highlight: Motorstorm II at just USD 24.90!
Next Post Notable Bargain Bin Japanese Imports for the Nintendo DS