Custom Battler Bomberman ~ Import Review!!
Hudson's latest Bomberman title for the Nintendo DS is a whole lot of fun in a single cartridge. Custom Bomberman Battler is unlike any other Bomberman title I've seen before.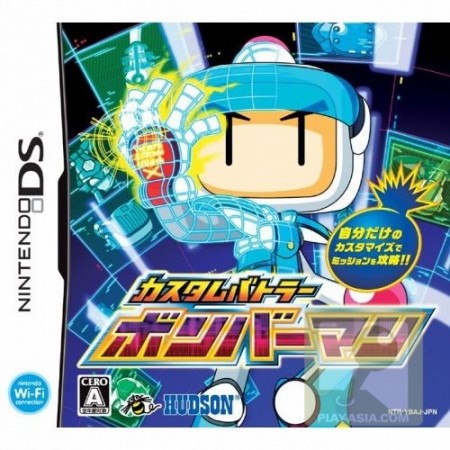 For starters, the levels are linear affairs whereby players must guide Bomberman through several sections in order to get from Point A to Point B. Most sections have locked doors and most of the time, you'll have to blow up enemy guards to get the key card to move on to the next section.
To add to the challenge, some sections are timed, and players will need to get out of the section as fast as possible. Luckily, in addition to the normal Bomberman power-ups, there is also a Timer power-up which adds seconds to the clock. It's too bad that the normal power-ups are not carried forward to the next level.
Each level also has items to be picked up. Items are used to customize the player's Bomberman character. I don't know whether do the items have any effect, but hey, I've only got one, which is a TV box helmet for Bomberman. Time will tell.
A secondary game mode to the linear single player mode is something more familiar to Bomberman fans, which is dropping Bomberman in a large grid with boxes to blow up. This mode reminds me of Metal Gear Solid's VR Missions.
Graphics wise, the game looks no different than a typical Bomberman DS outing. However, the new interface (which is also in Japanese) might seem a little daunting (and busy) but don't let it fool you. A little trial and error but you'll be blowing stuff up faster than you can say…"KA BOOOOOOOOOOM".
Custom Battler Bomberman comes with WFC connectivity, allowing you to take the fight online with your customized Bomberman. This somehow befits the theme of having your very own customized Bomberman.
Wait…there's more! Buying Custom Battler Bomberman is like buying 2 games for the price of one. It comes with the original Bomberman DS! So, if you are tired of going through the linear levels of Custom Battler Bomberman, you can simply head over to Bomberman DS, and have a blast out of traditional Bomberman levels with 7 other CPU players.
Interested in importing Custom Battler Bomberman? Click here for details.
Powered by

Sidelines
Previous Post Mario Kart Wii, Now in Gashapon Form!