Prince of Persia: The Fallen King (NDS) ~ A Review
Back in the day, Prince of Persia and its sequel, The Shadow and the Flame were quite tough 2D platformers on the PC. I don't remember which one was it, but I had to play with the manual nearby, but thankfully, such manner of copy protection has seized to exist.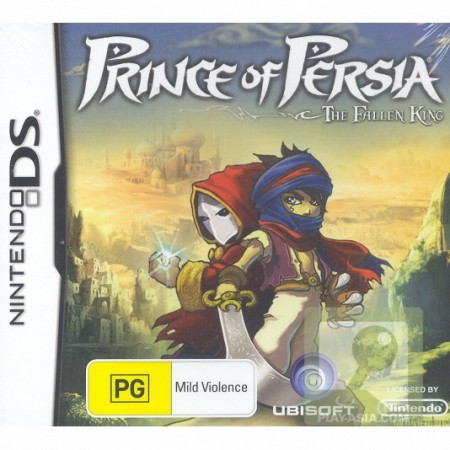 This brings us to the modern day iteration of 2D Prince of Persia games of old, Prince of Persia: The Fallen King and although the art direction is way different, everything else seems to have survived the 21st century conversion.
The health jars are still there and so is the health bar. The knife fights are back, but like the rest of the controls (and the game itself), are entirely stylus driven. The jumps and cliffhanger drops are there but with several editions, the Prince is now able to scale walls up and down. The floor switches…it's like playing with an old pal who had plastic surgery.
One thing I've noticed though, the Prince hasn't died yet since I've started playing. The difficulty might have been scaled back a little, but I also noticed that it's pretty hard to kill of the Prince with all his jumping and hanging on to ledges prowess.
As for the art direction, the game adopts a pseudo 3D look on its 2D gameplay. This could lead to some confusion on whether some places are valid areas of exploration, or not. The foreground sometimes act to obscure the prince's movement, making it hard to see whether he can access a particularly hard to reach area.
The prince himself is no longer a turbaned guy, but is drawn manga style not unlike a desert rat. And he talks to himself too much :P. The music and sound effects, well, would sound better with a pair of headphones, as the speakers plainly muffles them.
The entirely stylus based controls might take some getting used to and it presents some challenge as it can be a little non-intuitive. But in any case, it might have just been my screen with a worn-out screen protector.
I don't remember collecting gold coins in the old games, but in The Fallen King, you get to collect that as well as scrolls that flesh out the back story and treasure chests. Level to level movement is done Super Mario Bros 3 style where you move the prince from one level to another via an overhead map.
I'm having plenty of fun playing this game and although it is clearly targeted for a younger set of gamers (its hard to die in the game), I would recommend it to anyone. There's a super cheap Asian version which runs on any Nintendo DS available at Play-Asia. Click here for further details.
Powered by

Sidelines
Previous Post Lego Batman (Xbox 360) ~ USD 19.90
Next Post Naughty or Nice, Phoenix Wright Fans Get Bookmarks For Christmas.