My Stuff That Won't Run on the NDSi
I'm actually considering getting a NDSi this Christmas to replace my aging NDS (the screen is a little shot, and the battery life isn't that great anymore). However, I'm also taking stock on what I won't be able to run from my games library on the NDSi.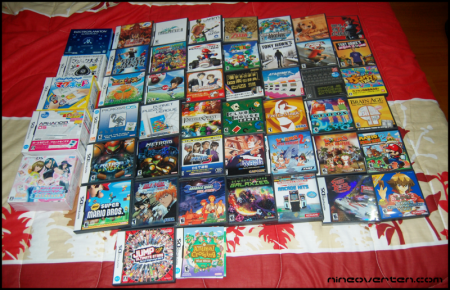 First up, the lack of GBA port will once and for all assign the following to being permanent display units:
Arkanoid DS controller
Love and Berry Card Reader
Mag Kid's Optical controller
Rumble Pak
I also won't be able to run my GBA games, especially the range of bit Generations titles, Digidrive, Coloris, Soundvoyager and Boundish. These games would have benefit from the wider, more vibrant screens of the NDSi.
On the R4 front, it's would be useless to run the flashkart on the NDSi. That means I won't be playing emulated NES and SNES games anytime soon (along with pirated ROMs) with the R4. Also, the lack of a GBA port doesn't permit an EzFlash 3-in-1 expansion set on the NDSi. Which means no translated Mother 3 on the NDSi.
Thank goodness my 50 over NDS games will run on the NDSi as region-locking only affects NDSi titles. Mario Kart DS should look really nice on the NDSi. I'm curious to see whether the DSVision runs on that console as well.
Price check! NDSi prices have gone down to USD 249 per system on Play-Asia. So when are you getting yours? Click here for purchase details.
Powered by

Sidelines
Previous Post Bring Home Mario and His R/C Kart With You