Sony Malaysia Increases PS3 Bundle Price!
Did anyone of you realized that the retail price of the Sony PS3 bundle (1 console, 1 DualShock 3 controller, 2 games) being sold at Sony Style Malaysia has gone up within a span of 1 week?
I bought my console (the same bundle) from a Sony Style outlet last week, for RM 1799. In conjunction with "Sony Time" promotion (15th Nov – 31 Jan 2009), Sony Malaysia has priced a Sony PS3 bundle at RM 1999, RM 200 higher than my purchase (check out the cover below of The Sun, 14th November).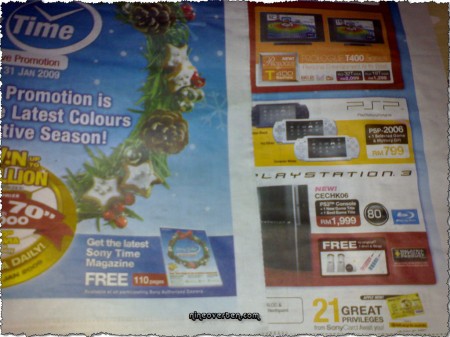 Unlike the printed ad, the online "Sony Time" catalogue doesn't state the price of this bundle but both offer very little information save for the fact you'll get two games and some free gifts. There were no indications on the number of controllers in this bundle.
You can download the catalogue by clicking here. Check out the screenshot below if you are lazy to download the catalogue :).
At first I suspected that the RM 1999 bundle is the one that comes with 2 DS3 controllers, but then again, a quick check on the Sony Style website revealed that the promotion price for the bundle I bought (1 DS3 controller) has increased by RM 100 to RM 1899. A RM 100 price difference between a bundle with 2 DS3 controllers, and a bundle with 1 DS3 controller? Highly unlikely. A typo on the print ad? Maybe.
Either way, the price of the PS3 bundle has gone up (RM 1899 now vs RM 1799 a week ago). It remains to be seen on how this would effect other retailers who get their stock from Sony Malaysia.
Powered by

Sidelines
Previous Post Of Crashing Cars and Soviet Tanks
Next Post Hori Classic Controller at Play-Asia