Nothing Like Beating People Up (Virtually) For Money
Yup. You read the title right as the Anime Festival Asia 2008 will also host Singapore's first Nationwide Arcade Showdown featuring games like King of Fighters '98: Ultimate Match, Street Fighter IV, and Tekken 6. The cash prizes for each game total up to SGD 1020.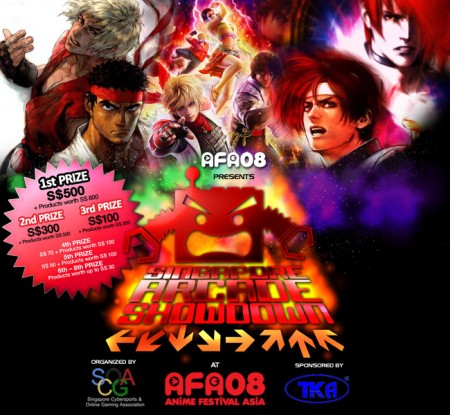 Here's the Press Release for the event:
Anime Festival Asia 2008 to host first nationwide Singapore Arcade Showdown
Players will compete in the latest arcade gaming titles King of Fighters '98: Ultimate Match, Street Fighter IV and Tekken 6.
Singapore, 4 October 2008 – Anime Festival Asia 2008 (AFA08) will host the inaugural Singapore Arcade Showdown, a nationwide Arcade Gaming Competition organized by Singapore Cybersports & Online Gaming Association (SCOGA) and machines sponsored by TKA World. The landmark competition will take place in The Arena Zone, the seventh and newest Experience Zone of the AFA08 on the 22nd and 23rd of November 2008 at Suntec International Convention and Exhibition Centre.
Players will compete in any of the three upcoming arcade gaming titles: King of Fighters '98: Ultimate Match; Street Fighter IV; and Tekken 6.
The King of Fighters '98: Ultimate Match, which is slated to be released this coming December, is from the famous King of Fighters series from SNK. In the game, players select three characters out of 43 and pit them against each other in the classic style of last man standing brawling.
Street Fighter IV, which will be released by early 2009, is the latest installment in Capcom's long-running Street Fighter game series. Its fighters and environment are rendered in stylized 3D while the gameplay is on a traditional 2D plane.
Namco Bandai's Tekken 6 scheduled for release at the end of 2008 has the largest line-up of characters. It features a deeper character customization to further enhance the incredible fighting intensity as players knuckle up against each other.
Competition Registration
Players need to pre-register by 18 November via the official AFA08 website at www.afa08.com and have to pay registration fees (in addition to entrance fees):
$5 for participation in any one of the games above
$8 for participation in any two of the games above
$10 for participation in all three of the games above
Tournament Mechanics
Upon successful registration, all registrants will be entered into a pool where they will be randomly picked into individual groups by drawing lots after the sign-up deadline. In round robin fashion, the top 2 of each group will qualify into the play-offs which will be a double elimination format.
Schedule will be released on November 20, 2008
All players are allowed to participate in all games but if schedules clash, players will have to make a choice between which game they will be continuing to participate in. All enquiries can be directed to eugene@scoga.org
Powered by

Sidelines
Previous Post Legacy Interactive's Zoo Vet and Pet Pals Ship to Retail Today!