DSVision: What's Next?
With the release of the new Nintendo DSi, I'm wondering not about the whole bunch of GBA-slot peripherals that the new console just rendered redundant, but about am3's DSVision cart for the Nintendo DS. The DSi comes with its own SD card slot and Internet browser. This two alone can support the download of DSiWare, which are games and applications from an online store.
It's pretty safe to assume that users will also be able to download music, videos, comic books; areas that were previously the domain of unofficial flashkarts, and just recently, the DSVision cart from Nintendo.
It does sound like shooting oneself in the foot, right? After all the DSVision is only available in Japan, which also happens to be first place where the DSi was released.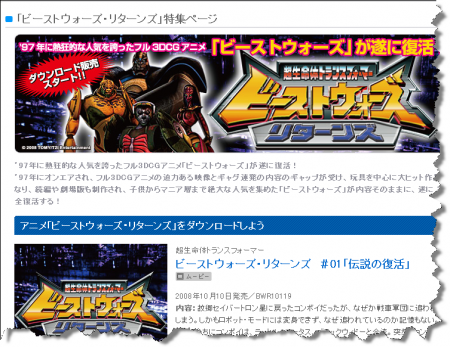 Okay, despite the redundancy, there are a whole bunch of new stuff over at the DSVision website. The site is now offering Transformers Beast Wars (Japanese) episodes for about USD 2 an episode, documentaries, novels and manga.
The bad news is that the site is really skimpy on "free" new stuff. I did manage to download a manga compilation of horror stories though, and managed to put the DSVision Comic Viewer through its paces. I know I've said the same thing regarding the DSVision's Video Player, but the Comic Viewer has the same, high level of polish.
The A button is used to move from panel to panel and the arrow buttons are used to move about the page. You can also set the zoom level from the touch screen. You can move from page to page using the touchscreen or the shoulder buttons. For even faster browsing, there's a timeline bar which you can drag to the desired page. Pretty cool stuff!
The DSVision will probably join the GBA-slot based peripherals as relics once the DSi saturates the market and replaces the DS Lite as the No 1. Nintendo handheld console. The DSVision is still available at Play-Asia, so quickly grab one for posterity. Click here for further details.
Powered by

Sidelines
Previous Post Play Retro Sega Games At A Discount!
Next Post Legacy Interactive's Zoo Vet and Pet Pals Ship to Retail Today!