Genting Trailblazer 2008: Look Out For Them Tigers!!
That was my buddy's response when I told him that I'm going off to Genting tomorrow for this Sunday's Genting Trailblazer 2008 run. Last year my friend (and now…girlfriend..hehe), managed to finish 24th out of 44 mixed teams in the Mild 8 km event.
This year, the 8 km event has been scrapped in favour of a longer 14 km "Adventure" event (there's also a "Championship" run, with the same distance). Just the distance alone makes it so much more challenging, so imagine how would you feel if you start examining the map (no map was provided online prior to last year's race)….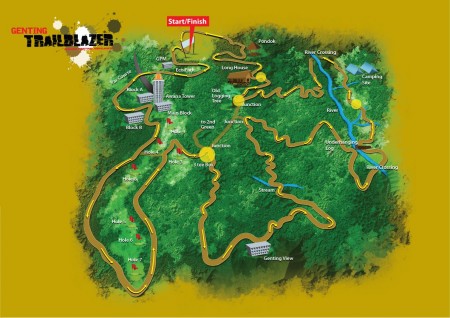 It does look daunting doesn't it, especially the whole jungle part from Hole 3 all the way to Genting View and then back towards the Long House. This is madness? No, it's just the way things are with regards to Genting Trailblazer.
So see you there Sunday. It's hard to miss any participant; we are all very dirty people.
Powered by

Sidelines
Previous Post Identifying Pirated Nintendo DS Carts From eBay
Next Post Genting Trailblazer 2008 – Race Report