Sokoban DS: Brain Cracking Puzzles: A Review
I not only spent a lazy Saturday afternoon gardening, sleeping and washing the porch (doesn't sound very lazy, does it?), but I also took some time to crack some puzzles on Sokoban DS, a new puzzle game for what else, the Nintendo DS.
Sokoban (which means warehouse keeper) is a transport puzzle in which the player pushes boxes around a maze, viewed from above, and tries to put them in designated locations. Only one box may be pushed at a time, and boxes cannot be pulled. The puzzle is usually implemented as a video game. (Wikipedia source)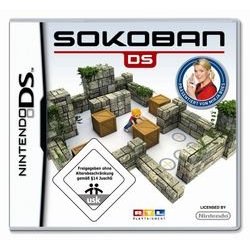 The definition above basically sums up the gameplay mechanics of Sokoban DS. It's quite a challenge pushing crates around an obstacle course without any means of pulling them.
Some of the courses have quite abit of trial and error going on but needless to say, if you need something to wrap around your head on a Saturday afternoon, Sokoban DS would be it.
The obstacle course is rendered on a 3D isometric perspective, with the player controlling an on-screen character that does all the pushing. There's nothing much to shout about sound-wise, as the focus is on the puzzle elements of the game.
Having said that, there's also a level editor (this seems to be a precedence in most puzzle games I play… I wonder why), which allows you to create your own levels, and send to other DSes. Pretty cool eh?
This European release is available on Amazon UK, click here for further details.
Powered by

Sidelines
Previous Post Nintendo DSi: Tip on Getting It This November.
Next Post Revoltech Evangelion Miniature Action Figure Set: Going Really Cheap