Official Nintendo DS Flashkart – New Package and Content This Sept
First there was the DSVision Starter Kit released by am3 and marketed as Nintendo's official flashkart for the Nintendo DS. Bundled together with a 512 MB MicroSD card, this flashkart allows the user to view movies, tv shows, comics, and stuff that an adequately equipped un-endorsed flashkart such as the R4 can do, minus playing ROMs of course.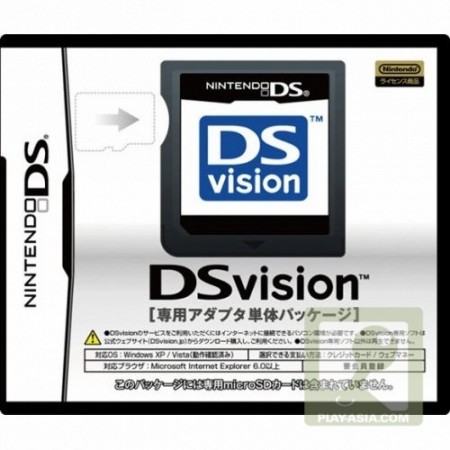 Anyways, it looks like AM3 is going to release the DSVision Adapter Package sans microSD card come this mid-September. Play-Asia lists the item to be available on September 11th with a price tag of USD 19.90 (to pre-order, click here).
Also being released on the same date are content for the DSVision cart and I suspect are sold in microSD format as they require the DSVision cart to work. The list (obtained from Play-Asia) is as follows:
Maboroshi no Pokemon Rugia Bakutan (click here for further details)
Serebi toki wo koeta souguu (click here for further details)
Myuu to hadou no yuusha rukario Special Pack (click here for further details)
Kesshoutou no teiou entei (click here for further details)
It would be interesting to note that these are actually Pokemon movies. The last I heard, Sony's UMD movies were pretty much with a lame response. Perhaps a repeat of Sony's missteps eh Nintendo?
Powered by

Sidelines
Previous Post Sony Malaysia's PS3 Teaser
Next Post Now I'm Planting Cucumber Seeds….And You Don't Have That in Animal Crossing