Tiny Mis-Adventures on Facebook
I'm actually quite surprised that the game that is taking up my time is one that is text-based and doesn't need require much on my part. Such little investment and yet so addictive, that's the way I would describe Wizards of the Coast's Dungeons & Dragons: Tiny Adventures on Facebook.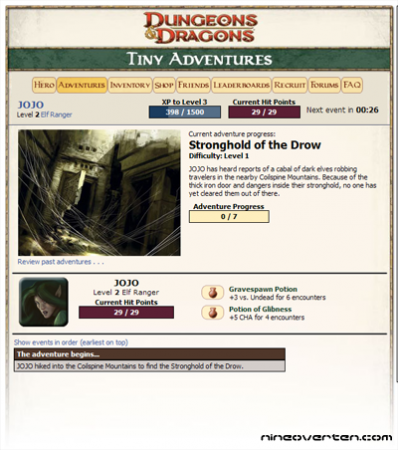 Tiny Adventures is pretty easy to play, like on of them Steve Jackson Fighting Fantasy books. Start by picking a character class and naming your new-found hero, you get to start immediately by picking an adventure. Each adventure is a series of events and unlike other turn-based games, you'll need to wait a certain amount of time for each event to happen (a countdown timer is available) and resolve.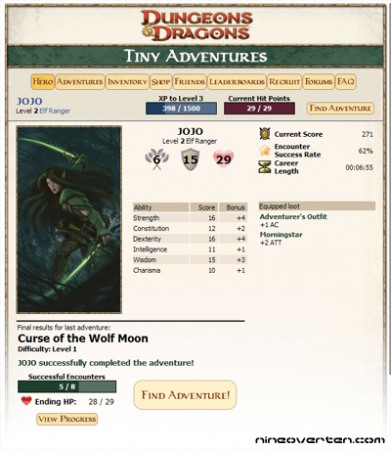 There's no need for any player intervention, except for clicking the button to see the resolution of an event or to click on a potion (you can bring two potions in an adventure).
When not in an adventure, you can shop for items or sell items that you own. You can view your list of Facebook friends playing the game and provide them with buffs or heal them.
Aside from the simplicity, the other thing that I really like about this web-based game is the artwork. It reminds me of the other game from WotC, Magic: The Gathering.
Do note that the game is experiencing heavy loads from time to time and might become unavailable. This problem is intermittent and you might need to refresh the page again or try playing it some other time.
Powered by

Sidelines
Previous Post Another Rare Be@rbrick. Yay!