Nine Over Ten Plays Metal Slug 7, And Reviews It!
First it was English of the Dead, and now, Metal Slug 7 for the Nintendo DS; that's two games finished in as many months. Both, by the way, are Japanese imports. Compared with the number of many games I've actually finished on my PS2 (1, to be exact after 4 years of ownership), this is nothing short of a breakthrough.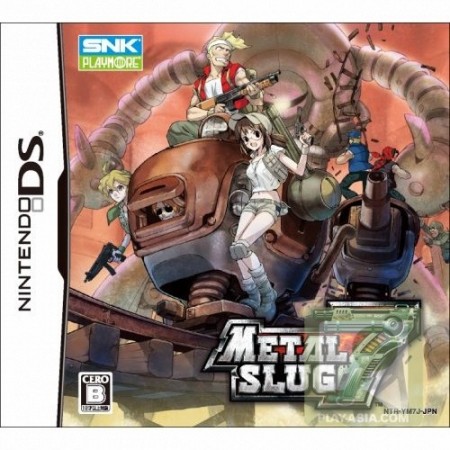 Easy, Peasy
Of course it helps when I'm playing both games on their respective Easy modes. Anyways, more on Metal Slug 7. The 7 moniker indicates the 7th incarnation of the series but this is actually SNK's first Metal Slug outing on the DS and I must confess that this is the first time I'm playing a MS game.
Anyways, Metal Slug 7 is basically a shmup presented in a cartoonish World War II/Vietnam War way. Instead of high-tech looking space ships, you get to choose from a bunch of Rambo-wannabes and from then on, it is 2D bullet porn all the way.
Shoot 'Em Up
Each level is populated by a variety of enemies, ranging from soldiers, tanks, the occasional mutant Venus flytrap, planes and what not. At the same time, you get to rescue PoWs loitering around the levels and get rewarded with temporary power-ups for your trouble. These power-up serve to offer some variety to your standard issue firepower, which differs from character to character.
You'll get into boss fights at the end of each level but there's nothing continuously pressing the fire button and having a big number of continues can't solve. 🙂
Looking For More Than Just Bullets?
Metal Slug is a little sparse on the gameplay side as aside from the 7-level Main Mission, there's only the Combat School mode. Players can also check their rankings and the list of prisoners freed from each level.
Despite coming up short in terms of levels, I really like this game and it's plenty of fun for casual players who would like short bursts of bullet mayhem on the daily commute. Hardcore gamers are not left out either as they can challenge themselves with the Hard difficulty level.
Where to Get?
The English version of Metal Slug 7 will be released this November but if you can't wait, the Japanese version of Metal Slug 7 is now available from Play-Asia (and is perfectly playable even if you don't know a smidgen of Japanese), with free international shipping to certain countries. Click here for the purchase details.
Powered by

Sidelines
Previous Post The Dark Knight – A Review