Jigsaw World: Daigekitou! Jig-Battle Heroes – A Review
When one would think about creating a jigsaw puzzle game for the Nintendo DS, one would probably place an empty board with pieces lying around, and have you, the player, move them into place with the stylus. Sounds boring doesn't it? Trust the Japanese to come up with something more interesting.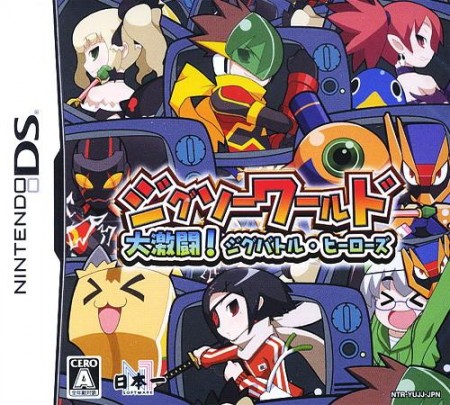 Jigsaw World: Daigekitou! Jig-Battle Heroes is different than your run-of-the-mill jigsaw game by which it actually has a plot! Most anime series would feature an uber-bad guy who almost always will get beaten by the respective series' protagonist at the end of the season.
It turns out that this uber-bad guy is the same regardless of the anime series and tired of getting defeated, he summons the respective heroes of each anime series to a jigsaw puzzle game!
Look, I'm an anime character
LOL. In Jigsaw World, you get to play as one of the anime heroes. The game features several and each comes with its own special attack on the jigsaw board. The premise is really simple, guide your character, grab a loose jigsaw piece appearing on top of the jigsaw board (or grab the piece currently being held by your opponent or your team mate) and place it on the jigsaw board.
Put in the pieces correctly and you'll fill up your power bar. The power bar is essential to activate either one of your two special attacks or to activate the guide which will immediately mark out where you are supposed to put the piece you are currently holding.
Three's a party…
Each level is divided into two boards and things can get pretty hairy when you are up against 5 opponents in the later levels. Good thing is that you'll gain teammates (fellow anime heroes) on certain levels to help you out.
The puzzles featured are not too difficult. The ones I've done so far feature animals, both current and prehistoric. The final boss fight had me assembling a space station, but I've so far been unsuccessful versus the uber-bad guy.
Nevertheless, graphics wise, the puzzles are pretty to look at and the characters' look and feel (and even the special attacks) are done in what else, 2D anime style. There's also some voice acting work and during gameplay, you can hear the heroes spout their hero phrases (you know, similar to their tendency to announce their attacks in their respective anime).
More Fun Than A Barrel of Monkeys
The game modes on Jigsaw World are plentiful. There's the story mode and a versus-AI mode. The game supports multi-cart and single cart play. There's an additional trivia section, I suppose it provides all the nice information on the dinosaurs (Jigsaws) I assembled but everything is in Japanese.
Jigsaw World is entirely playable even if you don't know Japanese. You might be missing out on the conversations between heroes (told in stills and before and after a level), but it won't make you miss out on all the fun happening on the board.
Jigsaw World: Daigekitou! Jig-Battle Heroes is now available at Play-Asia with free international shipping to some countries. Click here for further details.
Powered by

Sidelines
Previous Post Japanese Nintendo DS Titles on the Cheap
Next Post Being Castlevania Lite: Review of Gegege no Kitaro (NDS)